Asian Broccoli and Tropical Spaghetti Squash
This broccoli isn't the most photogenic dish on earth, but I make up for it with my "tropical" spaghetti squash rendition, which tastes good AND looks real pretty.  Among other things, it has all the colors going on, and it reminds me of summer.  (which is quickly fleeting these days)
I'll talk about the broccoli first, because it's real simple.  I chop the florets off the stems, and set them up in a deep skillet with some hoisen, mushroom sauce, peanut oil, and a bit of water, to ensure some steam will develop.  It cooks covered over medium heat for about five minutes, until broccoli is tender and easily pierced by fork.  I top mine with Gomasio.  (sesame seeds and salt).
Now for the "tropical" squash.  I'm really just calling this tropical because it had so many colors going on, there was no pineapple or rum in it.  (Is it stereotypical that pineapples and rum are the first things that come to mind when I reference tropical?)  I split the squash in half, scooped out the seeds, and baked for 45 minutes at 375F.  Once removed from the oven, I filled each squash half with guacamole and my homemade salsa.  When it comes to guacamole, I've tried all sorts of fancy things, and there's just nothing as good as the bare minimum.  A dash of lime juice, and some S+P to taste.  Anything more is criminal in my eyes.  OH was this ever good…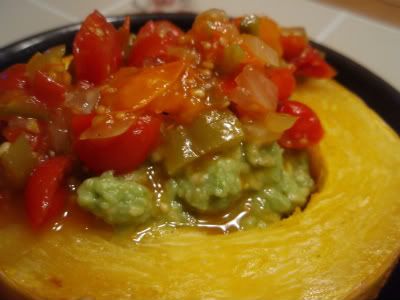 I'd do this again in a second, especially with the cold weather coming in…I'm up for anything bright and summery.
Selah.