Vegan Squash Blossoms
There are certain foods I don't see often, and whenever I do, I NEED to get them.  Squash blossoms fall under that heading, and when I saw them at the market this week, I HAD to get a couple dozen.  I keep seeing recipes for nice, clean sauteed blossoms and such, and I tell myself I'm going to try them out, but when I get the opportunity, I'm back to stuffing and deep-frying.  Why?  Because it's damn good, that's why.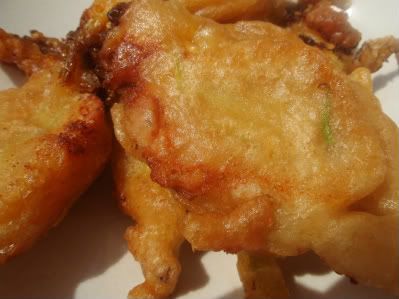 These were stuffed with a combination of the cashew cream from VwaV/Vegan Brunch (I'm pretty sure it's the same) and the jarred salsa we had in the fridge.  The batter was a combination of flour, baking powder, Sam Adams Hefeweizen, and paprika for color.  I didn't measure out any of that..simply mixed it together by eye until I was happy with the consistancy.
These were deep-fryed in canola until golden andd crispy and then dipped into salsa, or blue cheese dressing (for the nonVegans).  Squash blossoms are the most delicious lunch…although they're a bit labor intensive for an everyday thing…
Selah.