Tomato Rosemary Scones
This is yet another recipe from Vegan Brunch, and one that I've been wanting to try since I first opened the book cause the picture looks so darn good.  I had to replace the fresh rosemary with dried, and used whole wheat flour instead of regular white, so mine don't look quite as pretty as those in the book, but they still tasted pretty good.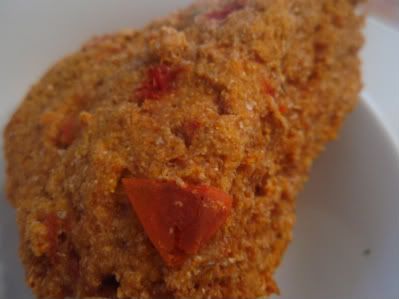 The tomato sauce I use is pretty chunky, I didn't add fresh tomato to these or anything, although come to think of it that would be a good idea.  I was also considering adding some fresh basil, which I skipped this time, but I may try it instead of rosemary in the future.  Tomatoes and Basil are just a marriage made in heaven.  The only problem with this recipe is that it made a whole lot of rather large scones, and it's going to take me about a week and a half to eat them all…by which time I'm sure I'll be good and sick of tomato scones.  Good thing there are other scone recipes in the book…
Selah.