Drunken Noodles
I'm fairly convinced the Thai are pulling the wool over our eyes, because why on earth would they call a dish drunken noodles and not put any alcohol on them?  Anyway, I've been wanting to make said dish forever (mostly because I enjoy the name) and was highly motivated the other day when I saw that Renae over at I eat food had made a rendition with Genovese basil.  I was all set to give her version a shot, when I went grocery shopping, and lo and behold!  they were selling these huge bags of thai basil for next to nothing.  A product I've never even see there before!  Well that was it, the powers that be had intervened, and I was making drunken noodles, although I couldn't find the the uber wide ones either.  I had to go with the normal wide rice noodles.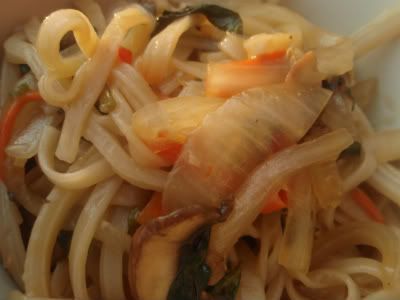 I kept my add-ins fairly simple, julienning a carrot, mincing a couple cloves of garlic and two jalapenos (one red), and chopping up half a large onion and a few baby bellas.  The sauce was based on the one at i eat food, but even more simplified, so I'll include it.
Drunken Noodle Sauce Ingredients
3 Tbsp shoyu
2 Tbsp vegetarian oyster sauce
2 Tbsp sambel olek (It's that chili paste with the red label and green lid)
2 Tbsp lime juice
1 tsp toasted sesame oil
1 Tsp powdered ginger
1 tsp sugar
Mix all ingredients together, and add to sauteed vegetables along with noodles.
These were very easy, and SO good!  I'm always up for a good pasta dish, and this one didn't dissapoint.  I'd like to make it with tons of vegetables at some point, I just didn't have all that much in my fridge this week.
Selah.