Couscous with Tofu
I wasn't in the mood to cook much (if at all…has it been hot and humid forever???) so my first thought was couscous.  You really only need to boil water for the couscous itself, and by the time you pour in the grain you can turn off the heat, so in terms of summer foods…it's a win-win.  I always reconstitute my couscous in stock to give it flavor, and I added some spices to the onions and mushrooms I sauteed, and deglazed with about a 1/4 cup of vermouth .  Spinach, tomatoes and capers went in as well, although I didn't bother sauteing those in advance.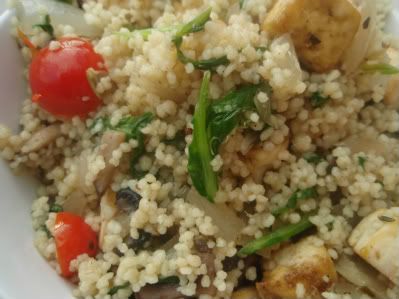 The real standout in this was the tofu recipe, which was incredibly simple, and I'm excited to share.  I was in the mood for Middle Eastern Flavors, and that was what I did.
Ingredients
1 block tofu, pressed, and chopped into small cubes.
2 tbs zataar
1 tbs cumin
2 tbs olive oil
Instructions
1. Preheat oven to 400F. Toss tofu in a glass casserole dish with spices and oil, making sure to coat.
2. Bake for 30 minutes, pulling out halfway through to flip.
3. Remove and mix into dish of choice…in this case couscous!!!
Since the tofu took longer to cook then everything else, I mixed together all the other ingredients with the couscous and put the entire pot in the fridge to cool.  I tend to prefer my couscous chilled…especially in the summer.
Selah.