A Story in Pictures
Lately I've been turning to Vegan Brunch for all my meals, some of which have been winners, others not as much.  I'm short on time and not terribly motivated (what can I say?  Humidity does that to me) so this is basically just going to be a list of pictures.
First up, these are the Scrambled Tortillas, which I still don't totally get.  Normally I don't feel the need to "get" a recipe….but I want to understand this, and I just don't think I do.  They were ok, but I have a feeling the leftovers will just sit in the fridge for a week and probably get tossed…because I have no desire to go back to them.  It's too bad…I just can't bring myself to 'want' another bowl of this.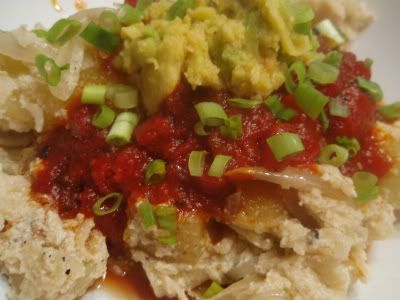 Next up, are the chili onion dosas with apple chutney, also from the book.  I altered the chutney recipe because I didn't have any cider, and used red wine instead, which worked out great.  I just let the chutney cook until it was starting to stick to the bottom of the skillet, and that turned out just right.  the dosas on the other hand, were something of a disaster.  No matter how much non-stick spray I used, these  insisted on sticking.  They also stayed pretty mushy on the inside, regardless of how crispy the outside got…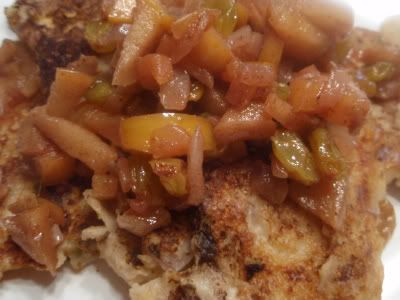 The chutney looks like the best part in the picture too…an accurate representation, I must say.
This is the potato-spinach "pie", which I was a huge fan of.  This actually reminded me a lot of a recipe one of my best friend's Moms makes, which is probably just spinach and cheese, (and VERY unvegan) but had a very similiar overall flavor to this recipe.  Like the recipe says, this one does indeed improve with time, and the leftovers I'm eating are twice as flavorful as the dish was straight out of the oven.  (It holds its shape better now too)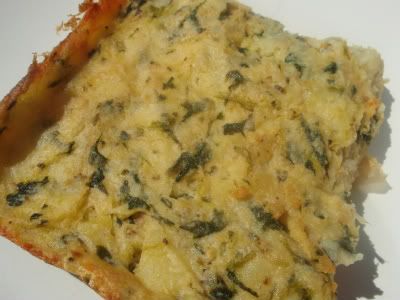 I wanted to try out the smoky shitake recipe, but thought they needed to be mixed in with a grain of some sort, since mushrooms alone don't really do it for me as a dish.  (even portabellas, I always feel like they're missing something)  I made the decision to mix the mushrooms in with some pasta, salt, pepper, and dried parsley, and this was PERFECT.  I made for a dinner date with a girlfriend, (who is not Vegan and had never eaten a shitake before) and she ended up asking for the recipe.  Score.
Last but not least, were the Chesepeake Tempeh Cakes, which look beautiful, but I wasn't a huge fan.  These retained a lot of the bitterness I associate with tempeh, and frankly it was a bit much for me.  I LOVED the sauce, and would eat it on any number of things (deep fried zucchini chips I had once at Planet Hollywood come to mind first) but I think the cakes were a one time experiment.

I also want to point out the tomatoes under the cakes, which came off my plants.  I'm so excited that my plants have finally  come into their own and are producing a couple handfuls of ripe cherry tomatoes a day instead of just a couple.  Yay homegrown produce!
Selah.