Summer Succotash
Sometimes all you want is a cold salad, and what masquerades as a simple salad but sounds so much cooler?  A succotash, of course.  This recipe is perfect for summer, although I must warn you that if you plan on leaving some of this for leftovers, you should omit the olives, because the brine overcomes the succotash when it chills.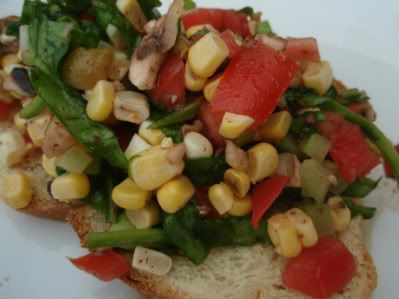 Ingredients
2 ears corn, shucked
2 roma tomatoes, diced
1 cup baby spinach, cut in a chiffonade
8-10 green olives, diced
2 ribs celery in a small dice
3 button mushrooms, diced
1 tsp powdered sumac, or 1 tbs lemon juice if it isn't available
1 tbs white wine vinegar
Generous drizzle olive oil
S+P
Instructions
Combine everything in a large salad bowl and enjoy!

I had my first helping on toast, and the second alone because I simple couldn't get enough. I still enjoy saying it too…succ-o-TASH! Selah.