Summer Squash Lasagne
This was an idea I had because frankly, it was too humid to boil a huge pot of water for lasagna noodles the other day, but I was still feeling "casserole".  I'd picked up some gorgeous summer squash at the first farmer's market of the year, and the idea to mandolin those into thin strips and use them as "noodles" just seemed natural.  This whole thing worked out really well, and wasn't at all hard to make, so I was pleased.  I WAS a bit disappointing that it didn't want to stay together for a photograph, but I did the best I could with the structure…once chilled, it held its shape a lot better.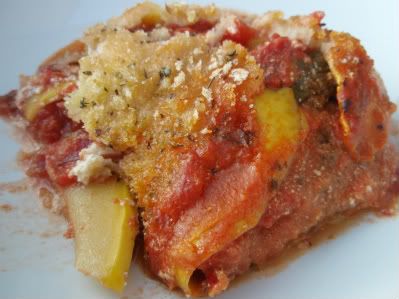 Ingredients
3 summer squash, "mandolinned" into thin stripes
1 24 ounce can chunky tomato sauce
1 lg. head rainbow chard
5 large mushrooms, sliced
1 recipe V'con cashew ricotta
1 cup panko
Olive Oil
Italian Seasoning
Instructions
1. Heat 1 tbs olive oil in a large skillet, and add mushrooms and swiss chard. Cook until greens are wilted and remove from heat. preheat oven to 400F.
2. Prepare one recipe V'con cashew ricotta, and make sure you have all ingredients within reach. Grease a large casserole dish and start with a thin layer of tomato sauce. Cover this with a layer of the summer squash. Some small spaces are ok. Cover the squash with a layer of ricotta, followed by the greens/mushrooms and more sauce. Follow with a second layer of squash, ricotta, vegetables, and sauce. Top with a third and final layer of squash, ricotta, and a combination of panko and italian seasoning. Drizzle olive oil over the panko so it will brown in the oven.
3. Bake for one hour at 400F, uncovered. Remove, and let cool at least ten minutes before serving.
If you're looking for a light but fulfilling dish that doesn't need pasta, eggs and cheese to be delicious, this is your recipe.  I was rather proud of it myself, and I can't wait to see what else this year's farmer's market will bring that could lead to new renditions on the same idea.
Selah.