Nachos and Taco Burgers
I hadn't made veggie burgers in awhile, and to make up for that, I picked a few from Just The Food to try out this week, starting with the Ortega Burger.  Although I followed the recipe to a T, I'm calling this a taco burger only because the taco seasoning packet that I used wasn't Ortega brand.  I don't remember what it WAS though, and it's long gone now.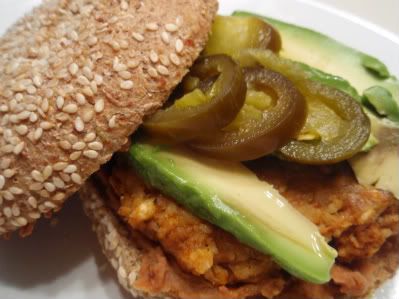 In terms of "garnish", I spread the buns with refried beans, and topped the burger itself with sliced avocado (one of my favorite things on earth) and pickled jalapeno slices.  This burger is really great flavor wise, although perhaps a bit too gluteny for my in texture, although it would probably fall apart without.  I went with the oven baking method too, which worked well.
Normally when one eats burgers, fries come to mind, but since this burger was reminiscent of tacos, I had a different thought…nachos!  I used the cheeze recipe from here, eliminating the last cup of water, because I felt it was unnecessary.  This was REALLY good, and I must say I like it a lot better than the cheezy sauce from V'con.  (gasp!)  I think it was simply less abrasive without all the mustard and turmeric, which I was happy about.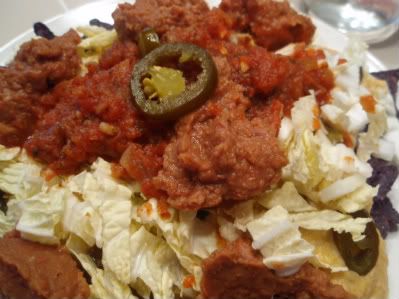 I topped the nachos with a bit of everything.  The chips are blue corn, and they're heaped up with cheeze sauce, salsa, refried beans, napa cabbage, jalapeno slices, and a bit of avocado hidden within the depths.  REALLY GOOD.  Not good for you, but really good. yum.
Selah.