"Irish" Potatoes
Maybe it's horribly stereotypical of me, but I'm calling these Irish for the simple fact that the dish involved cabbage and potatoes.  The colors also remind me somewhat of the corned beef and potatoes my parents would make once or twice a year when I was a kid.  (no we're not Irish, but there's nothing unkosher in the dish either if you think about it)  I made this in an attempt to get rid of some veggies that had been in the fridge too long, and while it wasn't bad, I don't think I'd do it again either…at least not exactly the same.  In my humble opinion, mashed potatoes need soymilk and butter/earth balance…they're just plain bland without it, and that's how I felt about this.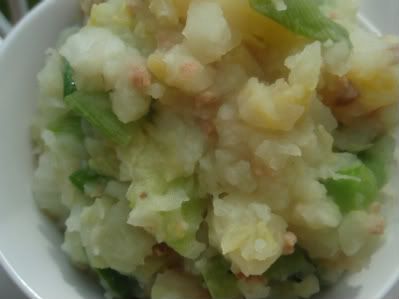 Ingredients
2 lg. chef potatoes, peeled and cubed
approx. 2 cups napa cabbage or whatever you have on hand, shredded
1 bunch large leeks, sliced into rounds
1/4 cup Bac-uns
6 cups veg stock
S+P
2 tbs olive oil
Directions
1. Add potatoes and cabbage to a large pot, along with the veg. stock, and bring to a boil. Once it reaches a boil, lower to a simmer and crack the lid. Simmer until potatoes are fork tender, then drain, leaving a bit of stock in the bottom.
2. While the potatoes and cabbage are simmering, add the leeks to a small skillet with the olive oil, and cook until soft.
3. Mash potatoes and cabbage until smooth, then add leeks, bac-uns, S+P to taste, and mix thoroughly.
4. Serve! (hopefully alongside an appropriately Irish entree and some Killians…but that's just me)
Like all mashed potatoes, this would've been better if I used Yukon Golds, but that's always true, since they're pretty much the best potatoes there are.  I didn't have them on hand this time, but I may try a slightly different rendition of this recipe using them in the future.
Selah.