Garden Challenge
So this week, something pretty awesome happened.  Michelle gave me a VERY exciting bag of fresh veggies from her garden, and the challenge was to make a meal with them that was easily accessible to all eaters (veggies and omnis alike) and delicious (duh).  I decided to make one dish with the head of cabbage in the bag, and use everything else in a "tagine" style dish over couscous.
First off, you need to see the WILD carrot that came in the bag: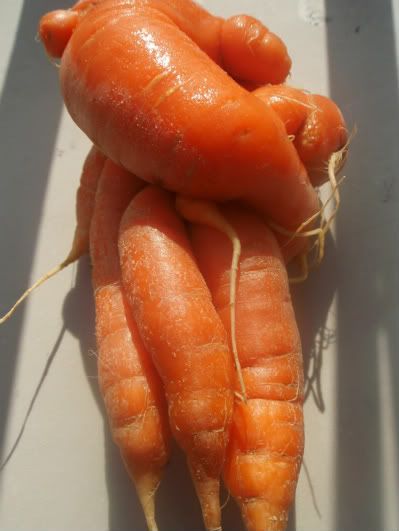 Cool, right?  I basically carried it around with me all day to show to everyone I ran into…nothing like a carrot to start a conversation with someone.
First off, the contents of the bag were:
1 green cabbage
Carrots with tops
Radishes (with tops)
Bok Choy leaves
White and purple onions
Scallions
Green Beans
Celery with leaves
The first thing I made was a simple side dish with the cabbage.
Ingredients
1 head green cabbage, quartered, de-stemmed, and chopped roughly
2 cloves garlic, minced
1/3 cup dry Vermouth
S+P
1 tbs olive oil
Directions
1. Once the cabbage has been chopped and washed, heat the olive oil in a medium skillet. Add the garlic and cook for about a minute, making certain not to burn.
2. Add cabbage leaves to skillet, and stir to coat with the oil. Allow to wilt down for 3-4 minutes before adding Vermouth, salt, and pepper.
3. Lower to med/low heat, and cover, allowing to simmer for ten minutes. After this time, uncover, add additional salt to taste, and serve!
This was really simple, but also good, and as weird as it sounds, I ended up eating the leftovers straight out of the tupperware for breakfast today.  They were STILL delicious.  If you don't cook with vermouth, you could do this with some vegetable stock instead and it would still be good.  I don't use cabbage as a green often enough…
The rest of the vegetables all went into a "tagine" style dish that allowed it all to simmer together and me to flip through my magazine.  (my favorite style of cooking…non-active time)  I cooked everything together in a wok simple because that was the largest "skillet" I had…although it's shaped nothing like a literal tagine.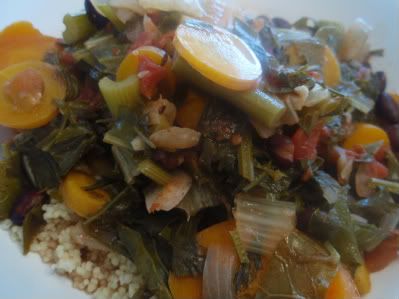 Ingredients
Approx. 2 cups carrots with tops, diced
3 radishes, sliced
Approx. 10 small bok choy leaves, julienned
1 small white and one small purple onion, minced
2 scallions, small dice
Approx. 12 green beans, trimmed and cut into thirds
4 stems celery with leaves, chopped roughly
1 can black beans, drained
2 cloves garlic, minced
1/2 yellow onion, diced
1 tsp paprika
3 dried red chilis
1 tsp cumin
1 tsp
zaatar
*
1/2 tsp cayenne powder
1 cup tomato sauce
1 cup water
2 tsp olive oil
Instructions
1. Heat olive oil over a medium flame, and add garlic and onions. (white, yellow, and purple). Cook for approx. 5 minutes, until onions are just starting to become translucent. Add paprika, chilis, cumin, cayenne, and zaatar* using that recipe if you don't have it. Sumac is optional in my opinion, and can be replace with about a tablespoon of lemon juice. Mix, and cook one minute longer.
2. Add all the remaining vegetables, along with tomato sauce and water. Mix well, cover, and allow to boil. Once the mix has reached a boil, bring heat down to "low" and simmer for 30 minutes.
3. Serve up over your grain of choice, which in my case was couscous.
All of the ingredients that came from Michelle's garden are bolded in the recipe, and the rest I added from my own pantry.  You definitely want to serve this up with a ladle to make sure you get lots of the liquid to flavor the grain underneath.  Fresh produce is pretty much the most awesome thing on earth…now that my tomatoes have finally started ripening and I'm enjoying a handful everyday, I know that summer is truly here, and couldn't be happier!
And if you've got a minute or two (and you know you want to put off whatever you should be doing longer) you should go check out Michelle's blog Yogini at Play right about now…what are you waiting for?  Go!
Selah.