Forbidden Rice and Spicy Wonton Soup
First off, I don't remember what's in the soup.  I dumped everything "Asian flavored" I had into the pot and let it simmer for half an hour.  Then there was soup.  I made some simple veggie wontons with shredded carrot, napa and mushrooms sauteed with a bit of five spice powder.  Overall it was pretty good, although I STILL don't know why I went with hot soup on a hot day, it was too much.
Forbidden Rice is something I've been wanting to try for awhile, and when I saw that it was on sale for about 2 bucks a bag this week, I knew now was the time.  it turns a dark purple when cooked, and has a deep, nutty flavor.  I set this up with some sauteed onions and salt and pepper, nothing fancy, since I wanted to focus on the flavor of the rice.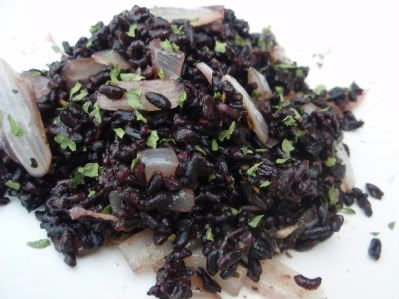 Would I buy the rice at full price?  Probably not.  It isn't bad, I simple don't think it's worth five dollars for a two serving bag, 2 was much more appropriate.  It is pretty cool to think I'm eating a grain once reserved for royalty, if that doesn't give you the warm and fuzzies, I'm not sure what will…
Selah.