Farner's Market Millet, V'con Ceasar Salad and a Blondie…sort of
I scored a few cool things at yesterday's farmer's market, and they all went into dinner.  I knew I had to return to the V'con Ceasar salad as soon as I saw a head of romaine larger than a regulation basketball, and that's exactly what I did, picking up an Italian loaf from a local baking vendor at the market for the croutons: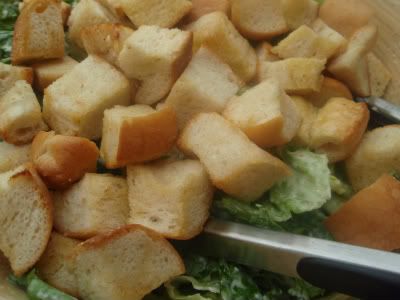 I elected to halve the tofu in this, and use a "bit" less of all the other ingredients, using about a 1/4 cup of water to bring the consistency to where I wanted it.  I also replaced the almonds with cashews, and much preferred that to the original.  Cashews are creamier, whereas I felt the almonds just made the dressing gritty.  I also think this may have been the first time I didn't burn my croutons…like ever.
The main dish utilized millet, which I've never cooked or eaten before, along with some adorable Pattypan squashes and MONSTROUS fava beans I picked up at the market.  I tossed in a couple cherry tomatoes from my plants as well, and a half yellow onion that was rolling around in the veggie drawer.  Perfection.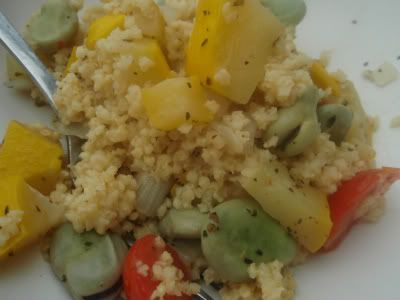 Ingredients
1 cup millet
2.5 cups veg. stock
2 Pattypan squashes, trimmed and diced
Approx. 1 cup fava beans (de-shelled)
1 cup cherry tomatoes, halved
1 tbs Tuscan Sunrise Seasoning (get to penzy's if you haven't!)
1 tsp shallot Pepper
Salt to taste
1tbs earth balance or olive oil
Directions
1. Bring veg. stock to a boil, and add the millet. Once it returns to a boil, lower to a simmer and cover, cooking for approx. 25 minutes, or until all liquid has been absorbed by the millet.
2. Heat oil/butter in a large skillet, and add the onions, fava beans, and squash, along with all spices. Mix well, cover, and allow to cook, over medium/low heat for ten minutes, or until all vegetables are fork tender.
3. Check to see if your millet is done. Once it is, add to vegetables along with the cherry tomatoes, and mix well. Serve!
I know a lot of people don't love fava beans, but I think they're great, and the huge ones I got yesterday were just too awesome to pass up.  If I see more at next week's farmer's market I may have to whip up a fool….(that's a dish not an insult, I promise!) so that's a potential recipe to look forward to…
Last but not least, I attempted the Macademia nut blondies from VwaV.  I replaced the macademias with slivered almonds, but that couldn't have made ALL the difference, because these looked NOTHING like blondies.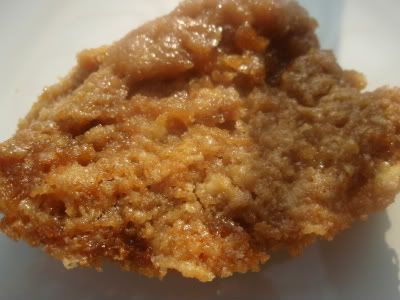 Once cooled these taste really good (never mind the rocking sugar high) but they're still way thicker and gooey than your average blondie.  Anyone know where I went wrong with these?
Selah.