Curried Avocado Soup, Cucumber salad and Asian Green Beans
These recipe all came from the Sundays at Moosewood Restaurant cookbook which I'm quickly falling in love with.  Most of the recipe are under ten ingredients (these three certainly were) and I have yet to make a clunker.  The only cold soup I really turn out often is gazpacho, and that depends heavily on a can of V8 for flavoring.  I never would have thought to make an avocado soup, and it's AMAZING.  I replaced the heavy cream called for with plain soymilk and was thrilled with the creaminess.
This reminded me a lot of a guacamole, but creamier, thinner, and WAY more refreshing.  (not that a guacamole isn't refreshing…it is)  The only drawback I found was that that while I really enjoyed one bowl, I had no desire for a second.  One serving of this stuff is simply all you need.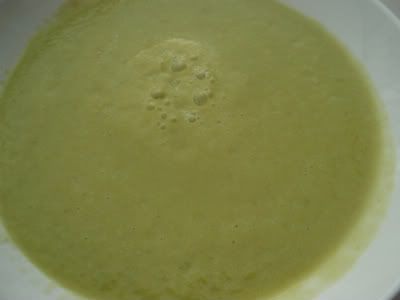 It's too bad this didn't photograph nearly as gorgeous as it looked in real-life, but I supposed you'll simply have to make your own for that.  The cookbook suggested a purple hibiscus flower as a garnish, which would have been a jaw dropping presentation, but who on earth keeps random purple hibiscus flowers in their kitchen on the odd chance they'll need to garnish an avocado soup?  yeah…not me.
So there's this guy named Murphy (long dead, as far as I know) and he;s got these laws.  Something about anything that can go wrong will go wrong…toast landing on the floor earth balance side down and such.  So there'd been a container of umeboshi plum paste rolling down in the back of my fridge for several months, uneaten.  I'd been eyeing it every-so-often, but had no clue what to do with it, and so there it sat.  I was flipping through the Moosewood cookbook when I came upon a recipe for "cucumber and pickled plum salad" which called for the paste as its first ingredients.  BINGO!  I hurried off to buy the other ingredients (essentially cucumbers and parsley) and couldn't wait to finally use that umeboshi paste and give the salad ago.  I assembled my ingredients, and went into the fridge for the paste…no there.  I pulled everything out and searched…not there.  I finally gave in and asked my roommate:  "oh yeah, I ate that this week".  He like to dip nori sheets in it….gross.  So yeah, I ended up using umeboshi vinegar.  Not nearly as powerful, and I probably missed the intended flavor of the dish, but a bowl of cucumber was refreshing on a humid day nevertheless.
Last but not least, were the "hot pepper green beans" which were pretty much your standard chinese buffet green beans.  Delicious (and my favorite china buffet standby even pre-vegetarian) but not terribly groundbreaking, I've done more or less the same thing a dozen times.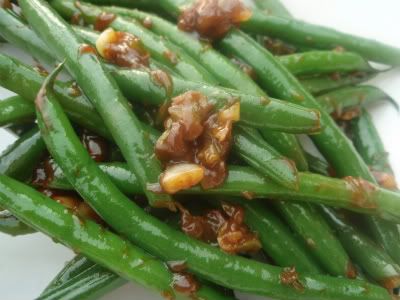 I must give them credit for photographing the best of tonight's line up…perhaps they have a future in modeling….anyone know a food photographer looking for clients?
Selah.