BLT from scratch…and I mean scratch
I discovered a challenge on the world wide interweb several weeks ago, and I'd been excited about it ever since, waiting with baited breath for my tomato plants to ripen so that I could get going, and make my very own BLT completely from scratch.  I must admit that my tempeh was store-bought, because while I thought of attempting my own, I was just too frightened of attempting to ferment soybeans on my own.  Some things I feel are best left to the pros.
I'll start off with a picture of the whole sandwich, and give you recipes for each of the components below.
First off, the tomato and basil (I could've used lettuce as the traditional green, but I wasn't growing any on my balcony, and frankly basil is way more flavorful and I've always preferred it in my BLTs anyway.)  I love my basil plant because after a few false starts this spring, it's now looking like a basil jungle, right alongside my cherry tomatoes: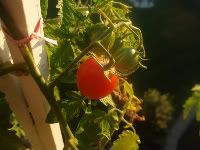 The bread I decided on was a focaccia (of sorts)  since it's one of those cafe style breads that make a sandwich that much classier without trying too hard.  (that would be baking ciabatta for my BLT).  Since baking isn't my thing, I must admit to using the recipe posted at all recipes, although I replaced the white sugar with turbinado (works just fine if you've never used it) and adding rosemary to the toppings.  This was a total winner lightly toasted.
My mayo is a slightly spicy alternative to Nayonaise, and came together much better than even I'd anticipated.  This actually thickened so fast my blender couldn't get through it after about a minute, and I had to hand mix the flavoring.
INGREDIENTS
- 1/4 cup plain soy milk
- 3/4 cup grapeseed oil
- 2 tsp white wine vinegar
- 1 tbsp agave nectar
- pinch of cayenne
- 1 tsp Asian chili sauce
- 1 1/2 tsp salt
Directions
1. Put soy milk in a blender and mix on low. Slowly drizzle oil in while blender is running. When all oil is incorporated, stop, and scrape down sides. Add remaining ingredients and mix well.
My bacon is actually tempeh, which I marinated in a take-off of the Vegan with a Vengeance recipe, using a couple minor alterations that I prefer.  That recipe is here:
3tbs Braggs liquid Aminos
1/4 cup apple cider vinegar
2 tsp organic ketchup
1/4 tsp hickory liquid smoke
1(8 ounce) package tempeh
2 cloves garlic, peeled and crushed
2 tbls peanut oil
Mix the braggs, vinegar, ketchup and liquid smoke until uniform.
Cut the tempeh into thin strips lengthwise. Rub w/ crushed garlic, then toss garlic into the marinade. Submerge the tempeh and marinate overnight.
Heat the oil in a cast iron skillet. Add the tempeh, cook for 4 minutes or until brown on the bottom. Flip. Remove to a paper towel covered plate, and allow oil to drain a bit before adding to your sandwich.
I considered adding a minced jalapeno (another crop I'm growing) to the mayo, but stuck with the cayenne and chili sauce this time around.  Jalapeno mayo definitely warrants some experimenting in the future though…  If you didn't catch the link up top, I'll give it to you again.  Check out Michael Ruhlman's blog for contest rules, and if you've got some tomato and greens plants going on in your yard/balcony get moving on your own entry!  it's an awesome idea, and I don't mind the competition
Selah.