Winner, winner tempeh dinner!
This was sooooo good.  Like I 'just can't stop thinking about it and imagining the next time' good.  Not thoughts I have often about tempeh, but oh MAN did this recipe do it for me.  I wish I could say I'd come up with this, but the stroke of genius goes elsewhere this time.  I stole it, and I highly recommend you do too, from 101 cookbooks here.
I mean just LOOK at the tempeh!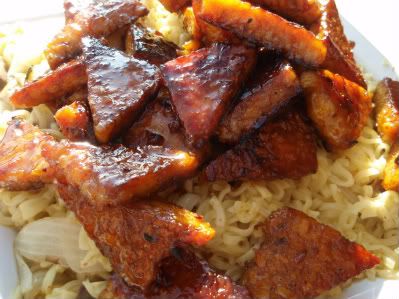 I must warn you that while the recipe says the glaze will form in ten minutes, mine took more like 25.  Either the author's cooktop is much more powerful than mine, or I'm just a bit slow.  It was well worth the wait though, because this DID glaze up eventually, and the coating on the tempeh was delicious.  I served atop some ramen noodles (gasp) which were boiled in some vegetable stock with powdered saffron and tandoor masala.  The noodles were mixed up with some bad company onions and mushrooms that I sauteed with S+P and which I thought mixed quite succesfully with the orange tempeh.
This is another big winner…and one more for the happy tempeh file, YAY!
Selah.