Spaghetti N' Franks
Sometimes you just need some good ole comfort food, and coming off a 24 hour stomach virus, that's definitely what I needed.  I made this a bit healthier than my childhood version with smart dogs, whole wheat pasta, and baby spinach in the sauce, but it still did the trick.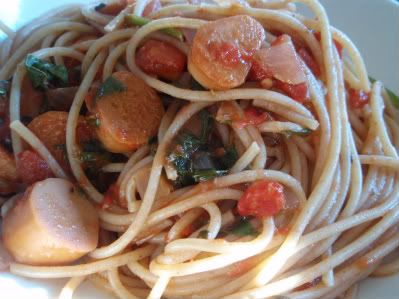 Ingredients
1 pkg whole wheat spaghetti
1 24 ounce can plain chunky tomato sauce
2 cups baby spinach, roughly chopped
8 smart dogs, sliced into rounds
1 tbs garlic salt]
2 tbs dried oregano
1 tbs dried basil
1/8 cup dry red wine
1/2 white onion, minced
1 clove garlic minced
1 tbs olive oil
Directions
1. Boil water in a pot large enough to fit spaghetti. Meanwhile, minced the onion and garlic and add them to a medium saucepan with the olive oil. (over med. heat)
2. Once the onions are becoming translucent, add spices, followed by wine to deglaze a bit. Next add the tomato sauce, lower to a simmer, and cover.
4. Slice up the dogs, and heat in a skillet, until slightly browned on both sides. By this time your water should be boiling, so add the pasta, cooking for approx. 10 minutes.
5. Add the spinach to tomato sauce,stirring to combine. Drain the pasta, and add sauce and dogs. Serve!
More than anything, I was looking for some carbs to offset all the acid in my stomach, and I think this worked out.  I'm not going to try any spicy food yet, but hopefully we'll get there…
Selah.