Persian Pilaf and Lemon-Cashew Tofu
I made Persian Pilaf in honor of those in Iran who were outspoken about their beliefs and jailed for it…so they can't enjoy such dishes.  This was probably the most time consuming rice dish I've ever made start to finish, and that even included risottos.  Unlike a risotto, a lot of the time with this dish is "inactive" so that helps a bit.  It's also quite a presentation….although I was terrified there would be a disaster when it came time to overturn it onto the serving platter.  I got lucky though…
Recipe from Madhur Jaffrey's World Vegetarian
This is actually a five layer rice dish.  You start with the potatoes, then a layer of rice, followed by a layer of the green bean-tomato mixture, more rice, more veggies, then more rice.  Ok, I lied, it's six layers.  Sounds real intense, but the layering isn't that hard, and the part where you leave it alone for half an hour isn't bad at all, so I'll reccomend the dish.  The cruncy rice and potatoes on the bottom/top are definitely the best part.
I also picked out a recipe for lemon-cashew chicken from Brand Name Chinese and replaced the meat with tofu.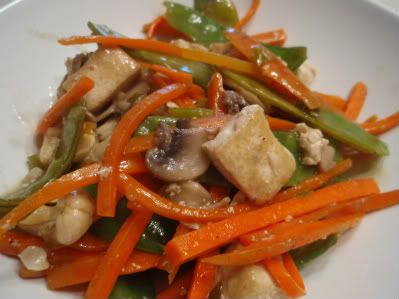 The sauce on this was great…I was really into the lemony flavor with the white pepper.  The trick is crisping up the tofu on all sides before adding the rest of the veggies to the wok, and you'll be golden.
Selah.rice, green beans, to