Peanut Tempeh and my Blogiversary
First things first, this is my one year Blogiversary!  In some ways I can't believe its been a year, and in others it feels like I've been doing this forever.  I'm pretty excited to have made it here, and I'm hoping for more years of cooking, blogging, and sharing with all of you.  Sadly, there is no cake to celebrate.  I did make some delicious jam, but we don't have any bread for me to picture it on.  I've been sneaking spoonfuls, so hopefully there will be some left to photograph by the time I get a "vessel".
I'm somewhat embarrassed to admit how many meals in my life have started with "I want rice…what else is there?", but that's what happened last night, and the result was pretty darn good.  I can also add this one to the "tempeh recipes I really love" file, which has been growing happily over the past year.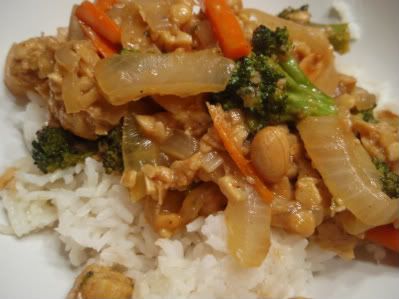 Ingredients
1/2 cup no-pulp OJ
2 tbs honey/agave nectar
1/4 cup tamari
1 tsp cayenne powder
1/4 cup chunky peanut butter
1/4 cup mirin
3-4 tbs rice vinegar
2 tbs Asian Chili sauce
2 cloves garlic, minced
1 pkg tempeh, cut into small cubes
1/2 large onion, sliced into half rounds
2 crowns broccoli, roughly chopped
2 carrots, julienned
1/4 cup unsalted, dry-roasted peanuts
2 cups rice
2 tbs peanut oil
Directions
1. Combine all ingredients to tempeh in a bowl, and then add tempeh cubes. Cover bowl and shake, then marinate for 15 minutes minimum.
2. In the meantime, cook the rice per normal. (we used basmati last night) and heat the peanut oil over med in a pot. Add onions, broccoli, carrots, and tempeh (extracting from the marinade) to the wok.
3. Once the veggies and tempeh are starting to cook, slowly add the marinade. By the time the veggies are fully cooked they should be able to soak up all the marinade as well.  Throw the peanuts in at this point so they stay nice and crunchy.
4. Serve tempeh and veggies over rice, and enjoy!
This has some serious heat to it, but you can always lighten up on the chili sauce and cayenne…spice just happens to be my thing.  A red bell pepper would've made great friends with this dish, but you've gotta make do with what you have, and it was still great.
I promise to photograph the jam and post the recipe in the near future, even if it has to be a picture of a spoonful on its way into my mouth…
Selah.