Mock Duck Stirfry over Green Tea Soba
Whenever a recipe features something like "mock duck", you know I've been to the Asian Market, and that's exactly where I was yesterday, leading to this dish.  I know stir-frys are pretty standard, but this one was among the more delicious, so I decided to post it anyway.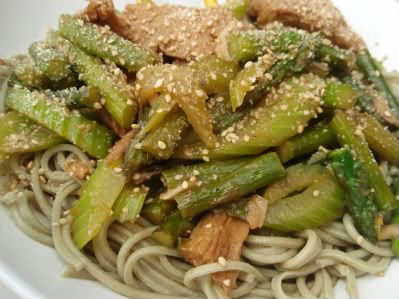 Loot acquired at the Asian Market yesterday and used in this included green tea soba noodles, Vegan Oyster Sauce, Mirin (I finished the old bottle the other day), and the canned "Mock Duck Meat".  Cooked up with the mock duck was a couple stalks of celery, a few button mushrooms, and a bushel of asparagus.  The sauce was a combo of the Vegetarian Oyster Sauce, Mirin, Galangal, Tandoori Masala, and Shallot Pepper.  The entire affair was topped with Gomasio.
This was lunch, but I didn't bother photographing the steamed eggplant with Korean Hot Sauce that we had for dinner, since I've done it before.  It's one of those Madhur recipes I continue to enjoy and would reccomend.
Selah.