Miscellaneous Mediterranean
Last night's dinner was a bit of everything, and absolutely delicious.  Sometimes you really don't need an "entree" to feel fulfilled, and what's more so, you may not want one.  Enter last night's dinner.
I'd prepared some falafel mix the night before (my standby recipe from Joan Nathan's The Foods of Israel Today) and fried up the balls just before eating.  Rather than making a tahini sauce, I topped them with Annie's Woodstock Dressing, which is a tomato-tahini blend, and as I discovered last night…perfect on falafel.  The carrots are the "Best Oven Baked Carrot" recipe from the new Jamie Oliver Cookbook and really ARE good, further proof of why I'm in love with Jamie Oliver, even if he's not a veggie.  (wouldn't he make an ADORABLE Vegan though?)  I'd picked up some Middle Eastern style pickles at the Pakistani grocery around the corner, and the pita is actually my own (very simple) recipe, with directions following after the picture.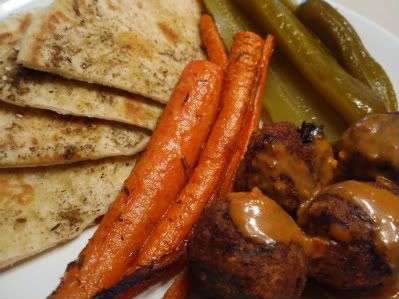 Ingredients
4 pocket less pitas
Zaatar
Olive Oil
Directions
1. Heat a cast iron pan (at least pita sized) over medium heat. In the meantime, brush one side of each pita with a thin layer of olive oil. Sprinkle zaatar liberally over the olive oil.
2. Place pita zaatar side down on the skillet, and press flat with your palm. Hold down until the heat starts to come through to your hand. Leave on that side for approximately 30 seconds longer, than flip and give each pita one minute on the un-coated side.
3. Enjoy! I tend to use pocket-less for this since it's nice and crispy and enjoyable alone, but you can do normal pitas and stuff them with the falafel as well…
This really was what I craved last night, although I'll admit to not being certain of that until I started eating.  With the weather increasingly rainy, I think I'm off grilling for awhile and back into the kitchen.  It's not cold enough for stews or anything, but something at least partially warm in my belly seems to be doing the trick…
Selah.