Mexican Black Bean Salad
We did Mexican tonight, which I didn't really bother taking pictures of, since frankly, you've all seen a taco before, been there, done that.  I made the tortillas from scratch as I sometimes do, using the recipe found here, obviously using vegetable shortening in my rendition.  There was also some pre-packaged lemon-pepper tempeh that I fried up, a quick onion-pepper-mushroom stirfry, and one avocado worth of Guac.  Salsa came pre-packaged.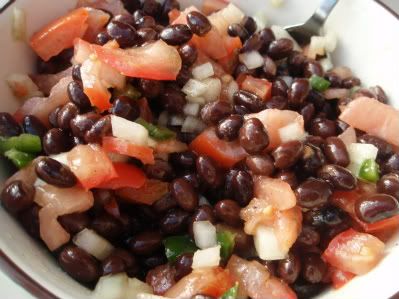 I whipped up a quick black bean salad in about two minutes, and it was delicious, so I figured I'd share.
Ingredients
1 can black beans, rinsed
1 jalapeno; de-seed in a small dice
Half a lg tomato, in a small dice
1/3 small white onion, diced
1 tsp adobo seasoning
1 tbs olive oil
1 tbs lime juice
1 tbs plain white vinegar
S+P
Directions
1. Combine all the Ingredients in a bowl, and chill for at least 30minutes to combine flavors. Serve!
This had a great tang from the vinegar and lime juice, not to mention a nice kick from the (very) spicy jalapeno.  (I may have left a few seeds in there)  You could also start with dried beans and soak overnight, but that eliminates the five minutes aspect of this, which I'm very into.  To each their own however, and soaking beans yourself is always rewarding if you've got them time.
I also attempted the Rhubarb Walnut Bread from Vegan Dad, replacing cranberries with dates.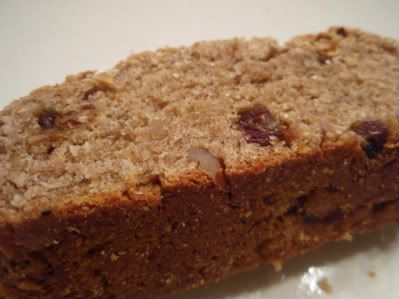 This bread does taste really good, although it didn't do much additional rising after being removed to the loaf pans.  It's pretty hearty stuff too – one slice was all I ate for lunch today and I feel completely satisfied.
Selah.