Green Beans with Shitakes and Orange Seitan
I used the Brand Name Chinese Cookbook again last night, with mixed results.  The green bean and shitake recipe which I followed to a T was pretty good, if not entirely mind-blowing.  Since I've been doing chinese food lately I've also been using a lot of cornstarch, which I'm not too keen on, but that'll slow down a bit as I move to different flavors, since I never stick with a particular part of the world long.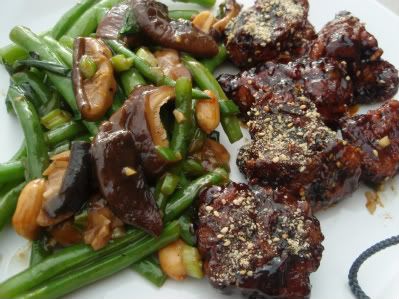 While the green beans were good, I wasn't so sure about the orange "chicken" (I used seitan).  1/4 cup of mollases seemed like too much, but I decided to follow directions for once and stick with it.  I was right, 1/4 cup of mollases IS too much, and that's exactly what the seitan ended up tasting like, instead of orange even though there was plenty of that as well.  If you want a good seitan recipe, I'd suggest the (much simpler) one I used here.  It's also not deep-fried, which'll help if you're calorie counting…
Selah.