Dry Rubbed BBQ Tofu
This idea came from Vegan Dad although I think I went a good bit heavier on the dry rub then he did.  I also used the bottled Malaysian Pineapple BBQ sauce in the fridge rather than making my own from scratch.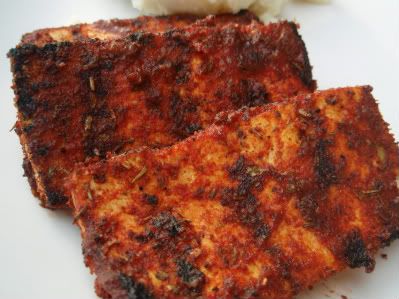 My spice rub was a combination of paprika, sea salt, shallot-pepper, cayenne, onion powder, mesquite seasoning, and herbs d'Provance.  Mine was pretty darn spicy since I had a liberal hand with the cayenne, but you can do whatever combination and portioning you like.   After pressing the tofu for an hour, I sliced it into eight portions and coated each with the spice rub on all sides.  The tofu then sat for another half an hour, before hitting the grill.  From that point on I followed Vegan Dad's instructions.
That Jam is still coming…never fear, just think rhubarb-orange….
Selah.