Apricot-Seitan Potstickers
This was originally a recipe from my brand name chinese cookbook, that I messed with a bit to veganize it.  Using wonton wrappers for things always seems like a great idea until I realize (again) just how fat my fingers are, although I did better this time then normal.  I'll admit they also got significantly better looking the more I did.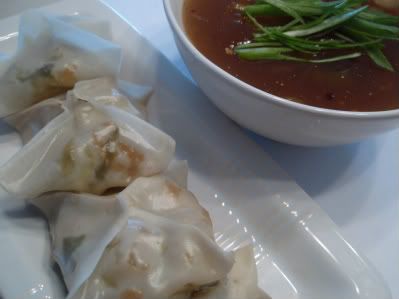 I tweaked the simple seitan recipe from from V'con a bit to give it an Asian flair.  By that I mean that I replaced the olive oil with peanut, and sprinkled in some powdered ginger, five spice powder and white pepper.  It's subtle, but it works.
Ingredients
1/2 recipe altered simple seitan from V'con
2 cups finely chopped Napa cabbage
1/2 cup apricot preserves
2 green onions, finely chopped
2 teaspoons shoyu
1/2 teaspoon grated ginger
25 wonton wrappers
Directions
1. Do a small dice of the seitan. Meanwhile, add about 2 tbs water to a medium saucepan, and toss in the cabbage. Once water cooks off and cabbage is wilted, turn off heat, and add seitan, preserves, green onions, and shoyu.
2. To assemble pot stickers, spoon a tablespoon of seitan mixture into the center of each wrapper, and brush with water. Bring 4 corners together, and press to seal.
3. Coat your steamer with non-stick spray, and assemble so that water is 1/2 inch below the steamer. Fill the basket with pot stickers, making sure they don't touch, and steam 5 minutes.
Spicy Sweet and Sour Sauce
1 green onion with top
1 tablespoon cornstarch
2 tablespoons rice vinegar
1/4 cup packed brown sugar
1/2 teaspoon crushed red pepper
1. Finely chop white part of green onion, and cut green part into long strips for garnish.
2. Combine vinegar and cornstarch in a small bowl and mix well.
3. Combine 3/4 cup water, brown sugar, red pepper, and chopped green onion in a saucepan; bring to a boil.
4. Stir in cornstarch mixture and return to a boil for at least one minute, until thickened. Sprinkle with green onion just before serving.
The apricot preserves in this are really key, since they give the potstickers a nice tang even without dipping into the sauce.  A nice mango relish could be a unique change as well for more of an Indian flavor.
Selah.