Spring Garlic Hash
This recipe was (very) loosely based on the Leek-Potato Vinaigrette in Sundays at the Moosewood Restaurant . Spring garlic looks a lot like leeks, but smells like Garlic, and is pretty much only available in late spring. (At least that's the only time I can get it around here) I was craving some potatoes as well, and decided on a Hash style dish to make use of both, which was very successful.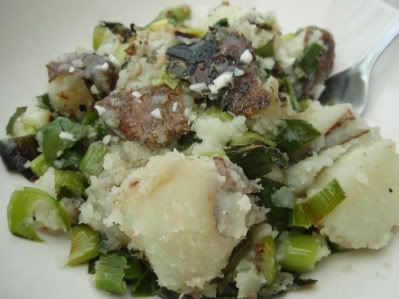 It's not a looker, but then Hash never is in my opinion…I highly recommend giving this a shot though, especially if you like jazzed up hash with your morning tofu scramble. (I skipped the scramble today)
Ingredients
2 lg unpeeled potatoes, cubed
3 stalks spring garlic, washed well and sliced into rounds, discarding the rough tops
2 tbs canola oil
Drizzle Truffle Oil
¼ cup grapeseed oil
¼ cup white wine vinegar
1 tbs. dried dill
Generous grinds S+P
1 clove garlic, minced
Directions
1. Boil potatoes until soft, approx. 20 minutes.
2. Combine all ingredients from grapeseed oil through garlic in a small bowl. This is your vinaigrette.
3. Heat a large cast iron skillet over medium heat and coat the bottom with canola oil. Add spring garlic and toss to coat with oil. Drain and add the potatoes and truffle oil. Cook until potatoes are golden, then flip to crisp on the other side.
4. Enjoy warm, with a generous drizzle of the vinaigrette on top. This is best mixed into the hash, so that it can flavor throughout. Enjoy!
I was absolutely in love with this, but then I feel that way about most breakfast foods, regardless of what time of day I eat them.
Selah.