Quick Italian Pasta
I AM still alive…the last few days I was being fed by others as my best friend (an awesome vegan!) was getting married and I was in the wedding party.  Today's dinner was my pretty standard "there's nothing in the fridge" meal, seeing as we were doing shopping AFTER the meal.  I've done this (or something like it) a whole bunch of times, so I won't bother with the recipe.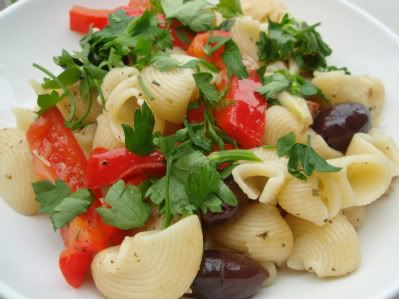 This involved onions, red bell, kalamata olives, sun dried tomatoes, and garlic.  Those were sauteed with shallot pepper, a spice blend I love called Tuscan Sunrise, and some salt.  I added half a cup of  sauvignon blanc, and about a quarter cup of vermouth.
Quick, easy and delicious.  I didn't bother taking a picture, but I just bought a juicer, and took it for a whirl tonight.  I made carrot/granny smith/ginger/golden beet juice, and it was delicious.
There will be more real food (and original recipes!) in the near future, I promise.
Selah.