Golden Beet Stirfry
This was the best thing I've had all week…although that isn't saying much.  I still couldn't finish a full bowl, but that had nothing to do with the dish, which I'm pretty sure was actually darn good, especially for something thrown together in about 15 minutes.  Rachael Ray would be proud of my speediness.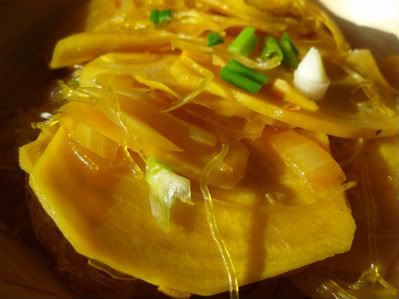 I've actually never had golden beets before, and I discovered that I much prefer them to the purple variety.  They still turned the rest of the dish yellow, but they're not nearly as overwhelming in the flavor category, and didn't dye my entire counter neon pink, always a good thing.  The recipe follows..
Ingredients
2 golden beets, peeled, and sliced on a mandolin
1 pkg. bean thread noodles
2 scallions, diced
1/2 lg. onion diced
1 tbs sliced ginger
2 cloves diced, marinated, Asian garlic
2 tbs peanut oil
1 tsp. dark sesame oil
2 tbs mirin
2 tbs shoyu
Sprinkle Schezuan Pepper oil
Directions
1. Soak the noodles in warm water for approx. 10 minutes, you will feel when they reach the right consistency.
2. Heat peanut and sesame oil in a wok over medium heat. Once hot, add the ginger and garlic, allowing to brown slightly, then add the onions and beets. Once you've tossed to coat, pour in shoyu, mirin and schezuan oil.
3. Once the onions are starting to become translucent, add the noodles, followed by the scallions. Cook for about another 5 minutes until well combined and smelling good…eat!
I really do think I'm into yellow beets, and once my appetite returns they'll warrant much more experimentation.  The initial idea of combining golden beets with ginger in an Asian preparation came from The Passionate Vegetarian which I won from Lindy Loo over at Yeah, that Vegan Shit in her spectacular Nippular contest.  (Many many thanks!)
Selah.