First Grilling of the Summer
The grills below my apartment officially opened last weekend when I wasn't around, so I finally made use of them today.  I was scared people would be lining up with the gorgeous Saturday weather, but apparently I was the only one with grilling on my mind, and I didn't have to share with anyone.
I marinated some tofu rectangles in bottled BBQ sauce yesterday, simmering for about 15 minutes and then refrigerating overnight.  Apparently it's impossible to make grill marks on the model grill we have, since they're basically flat, with microscopic gaps between the slats.  Nevertheless, the tofu tasted really good, and that's all that matters.
Next up were some grilled poblanos.  These are easily Bobby Flay's favorite vegetable, although I'm not sure what all the fuss is about.  The one I ate was pretty spicy, which I was excited about, but that's just luck of the draw.  In general, I find them rather bland.  The filling in these was brown rice with button mushrooms and radish greens sauteed with a bit of garlic, shallot pepper, tuscan sunrise seasoning, and Mesquite seasoning.  I also mixed about two tablespoons Nooch into the rice, to make it a bit "cheesy".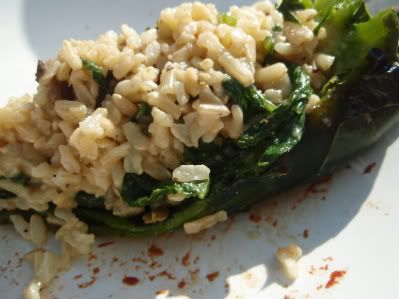 I'm most proud of the radishes.  I'm general not a huge fan of radishes, but they looked so pretty at the market this week that I couldn't help myself, and had to buy a bunch.  Since I had them, I needed to figure out something to do with them, and BOY was this successful.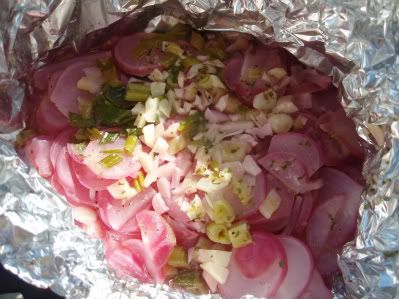 I double layered some aluminum foil and tossed all the ingredients in there to cook together, that being the key to the success of this dish.
Ingredients
1 lg. bunch radishes, de-stemmed and sliced into thin rounds
3 scallions, sliced into small rounds
2 lg. cloves garlic, minced
4 pats butter/alternative
S+P
Shallot Pepper
Instructions
1. This is REAL easy. Double layer foil, throw all ingredients in the center (be liberal with the S+P) and then bring up edges to form a packet.
2. Place packet on the grill, close lid, and allow to cook for 20 minutes. Remove, peel back the top of the foil, and enjoy! I didn't have to share with anyone…so I ate straight out of the foil.
I am DEFINITELY going to be making this radish recipe again, I've really never bought the things myself, since the only way I knew to use them was in cold salads, and I wasn't a huge fan of the bitterness raw.  This has made me a convert though, and I can't wait to do it again, and to serve it up at bigger group grillings as the summer progresses.
Selah.