Falafel Night
Since tonight was Lag B'omer and the fire wardens around here don't look kindly on bonfires…I made one of my favorite Middle Eastern snacks for dinner instead.  I can't believe that I've never made my own falafel before, but it may have something to do with it being deep fried.  Whatever….I very rarely fry things, and it's a HOLIDAY…falafel it was.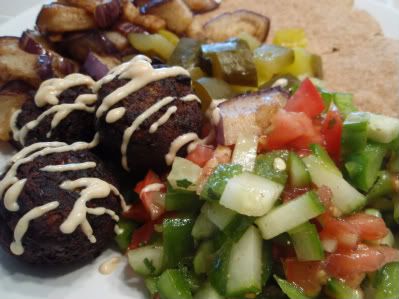 Since I was feeling inspired, I also made some Israeli salad, fried eggplant, whole wheat pitas, and tahini sauce.  Admittedly, all I did to the pickles was chop them.  The falafel recipe was from Joan Nathan's The Foods of Israel Today, and was DELICOUS.  I do plan on trying falafel with fava beans someday, since I really like that version, but this chickpea rendition was certainly satisfying as well.
The Israeli salad was a classic: tomato, green bell and cucumber with a dressing of Extra Virgin, lemon juice, salt, pepper and zaatar.  The tahini sauce was a combo of tahini, lemon juice, olive oil, S+P…I simply added liquids until I was happy with the consistancy, I didn't measure anything.  The eggplant was deep fried in Canola oil, cumin and pepper until soft and golden.
The only failure (so to speak) was the pitas, which I got from the Vegan Dad Cookbook.  I did trade white bread flour for standard whole wheat, so perhaps that's where I went wrong.  These never really split apart, and certainly didn't "inflate" as Vegan Dad said they would.  We ended up eating them in a more "tortilla" style which tasted great, even if it didn't look quite "traditional".
I have GOT to do this more often….perhaps with grilled eggplant instead of fried.  And while I'm sure it's "possible" to bake falafel,  that's just wrong, I'm sorry.
Selah.