Breakfast Casserole with Love and Best Dishes
Nobody would ever accuse Paula Deen's food of being vegan…(or figure friendly for that matter) but here I've gone and managed to make one of her decidedly un-vegetarian, un-vegan recipes just that.  It's still not terribly healthy, but then you can't have it all.  You can check out Paula's Version here .  This isn't the most photogenic dish on earth, but then again, what casserole is?  I borrowed certain components from other places, but I make note of that in the recipe so if you own a computer with internet access and a copy of VwaV, you should be set to go.
Ingredients
* 2 tablespoons olive oil
* 1 small yellow onion, chopped
* 4 cups frozen, crushed, tator tots
* 1 recipe VwaV Veggie Chorizo
* 2 1/4 cups plain soymilk
* 1 pkg mori-nu firm silken tofu
* 1 teaspoon salt
* 1/4 teaspoon black pepper
* 1/4 teaspoon freshly grated nutmeg
* 2 tablespoons Dijon mustard
* 1 loaf cubed whole wheat baguette
* 1 recipe
Vegetarian Times Cheddar
* 1 cup panko mixed with 1/4 cup Nooch
* 2 tbs cornstarch
Directions
1. Preheat the oven to 350 degrees F.
2. Spray a deep 13 by 9-inch casserole dish with vegetable oil cooking spray.
3. Coat a large frying pan with olive oil. Add the onion and saute over medium-low heat until soft, about 5 minutes. Add the tater tots and break apart. Saute until soft, about 5 minutes.
4. In a second frying pan, combine ingredients for Vwav Veggie Chorizo and cook until all the liquid is absorbed.
5. In the blender, combine soymilk, tofu, 'cheddar', cornstarch, salt, pepper, nutmeg and mustard, then blend.
6. To assemble, spread the onions and hash browns evenly at the bottom of the greased dish. Place the bread cubes evenly on top of hash browns. With a slotted spoon distribute chorizo as the third layer. Pour the soymilk mixture over these layers, topping with a mix of the panko and Nooch.
7. Bake the casserole, uncovered for 45 to 50 minutes, until top is golden brown. Allow to cool for 15 minutes before serving.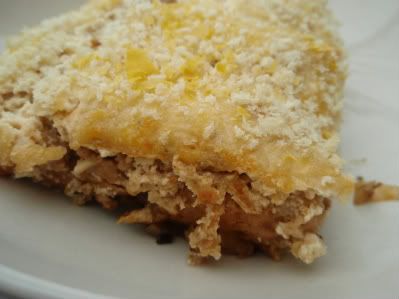 This was especially good with a side of ketchup which I used for liberal dipping.  It was also really rich, evidenced by the fact that I ate it more than an hour ago and still feel strangely satisfied, while normally I'm looking for a snack around now.  There's quite a bit of fat in this, so I wouldn't reccomend it if you're trying to keep your breakfasts healthy, but as an occasional treat and a very succesful comfort food, thumbs up!
Selah.