Asparagus Crepes and Moroccan Apricot Seitan
I went back to Vegan Dad's cookbook to try the asparagus crepes I've been eyeing for awhile.  I used his dinner crepe recipe as well, eliminating the sugar since I simply wasn't sure why it was included.  The crepes didn't taste like they were missing anything, so I stand by my decision.  This may be my new favorite way to eat asparagus…it tasted simple and fresh, and sliced in half they'd make great party appetizers…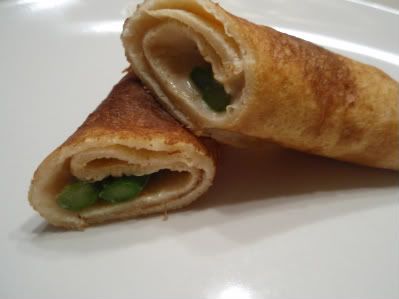 Then again, the fact that I think asparagus makes a great party appetizer may explain why I don't throw a ton of rocking parties…
The main dish of last night's dinner was a Veggie version of a traditional Morrocan dish I've seen on several of the Sabbath tables I've been lucky enough to sit at.  The version I made was based on the one in Cooking Jewish: 532 Great Recipes from the Rabinowitz family.  The recipe calls for Lamb as the protein, which I replaced with the Simple Seitan recipe from Veganomicon.  Overall, this reminded me a lot of Cholent that I've had in the past, but a bit more spiced, and a bit less mushy.  Definitely a great comfort food…and I'm sure I'll be making it often come next winter.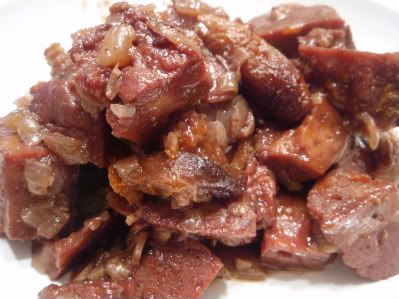 Ingredients
V'con
Simple Seitan, recipe doubled, and then cut into large cubes
2 tbs Olive Oil
1 lg. onion, diced
3 cloves chopped garlic
1 cup red wine (I used a Shiraz)
1 3/4 cups veg. stock
1 cup dried (un-sulfured) apricots
S+P
2 tbs Moroccan Spice Mix
Moroccan Spice Mix
2 small sticks cinnamon
1 tsp black peppercorns
1 tsp fennel seeds
1 tsp coriander
1 tsp ground ginger
1/2 teaspoon cloves
1/2 teaspoon fresh nutmeg
1/2 tsp cumin
6 cardamom pods
1/2 teaspoon allspice
Directions
1. Preheat oven to 350F and combine all the spice mix ingredients in a spice grinder and pulse until fine.
2. Heat olive oil in an oven proof pot over medium heat. Add seitan and onions, and cook until onions are soft and seitan is starting to brown. Add garlic and cook for one more minute.
3. Remove from heat, and add wine, veg. stock, and Morrocan spice mix. Stir together, and then add apricots.
4. Bake for 1.5 hrs, then remove, and serve!
I was really surprised by how much I liked this, since cholent, which it looks similiar to, is not one of my favorite foods.  It's intensely flavorful (probably thanks to how long it bakes) and the seitan really does get tender, when I was terrified it would harden and burn.  This looks really liquidy when you add in the wine and stock, but never fear, all the liquid soaks into the seitan during the baking process.  It's also one of those dishes that gets better with time…in fact, I think I'm going to have some for lunch right about now…
Selah.