Tempeh-Mango Salad Sandwiches and a Peak at my "Garden"
  When I saw the first mangos of the season, I knew I had to make the mango-tempeh salad sandwiches from VwaV.  Biggest lesson?  Don't buy mangoes until we're actually INTO the season, they were pretty weak.  One of the two never got ripe, and the one that felt perfect was stringy and somewhat brown on the inside.  Oh well…lesson learned, and the salad was still pretty good, I can imagine how delicious it would be with a GOOD mango.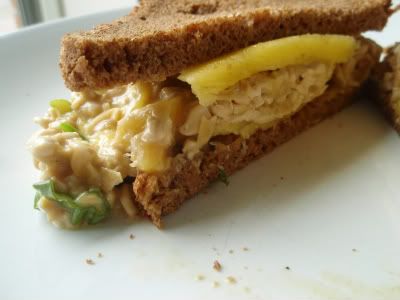 Since lunch wasn't the most exciting thing on earth, I've decided to share some of veggies I'm growing this year.  I started the seeds in planter trays about two months ago, and transplanted the succesful ones into larger pots a few weeks ago.  Once the plants were out of the tray I filled it with wheatgrass: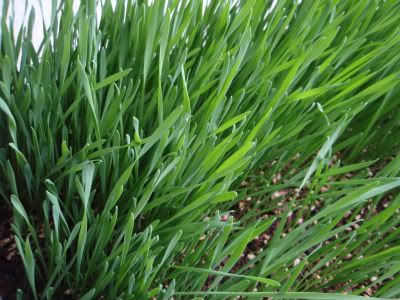 The juicer was ordered and should arrive soon (a wheatgrass juicer is about 35 bucks including shipping, and can attach to the balcony railing).   I was shocked at how easy it is to grow wheatgrass….buy some wheatberries, soak them overnight so they sprout ,and then sprinkle on dirt…that"s all it takes.  Give them a week, and you'll have the above result.
Onto the rest of my plants, first we have (what will be) cherry tomatoes: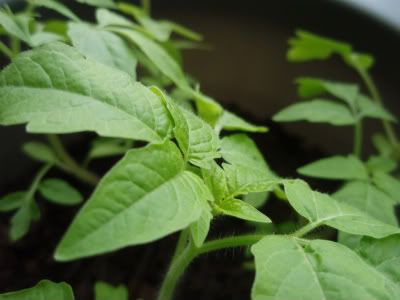 Followed up by some jalapenos to-be:
And finally, some thai basil (at least I hope it's thai, there's nothing purple about it yet)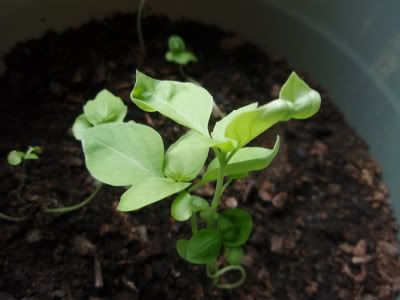 The only plant I haven't killed in the past is a stalk of bamboo that lives on one of our end tables, so I'm pretty excited that this is all looking so good.  I've actually got a number of each plant, so assuming all continues to go well (and we actually get some SUN so I can move them outside) I should have a VERY bountiful harvest.  I'm hoping to be known as the tomato-pepper-basil girl
Selah.