Strawberry Pesach Cake
This is the delicious strawberry snack cake from FatFree Vegan Kitchen made Passover friendly and rather gooey.  Once I'd tried this I kept trying to describe it…and coming up with gooey.  Gooey really isn't a bad thing…I love it when my yoga teacher calls our latter downward facing dogs "gooey" and this cake was the blondie kind of gooey that everyone likes…a real achievement considering matzoh meal tends to dry everything out.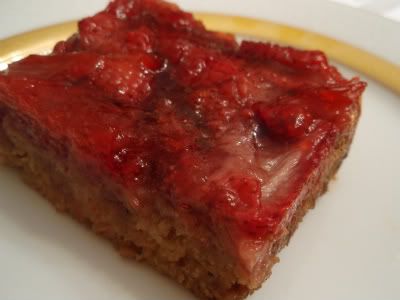 Once again, the original, and AWESOME recipe comes from Susan over at FatFree Vegan Kitchen which you should visit, but my passover friendly edit is available below:
Ingredients
1 3/4 cups matzoh meal
3/4 cup turbanado sugar
1 teaspoon baking soda
1/4 teaspoon baking powder
1/2 teaspoon salt
1/3 cup coconut based strawberry yogurt
1/2 teaspoon vanilla extract
1/2 cup water
1/2 cup unsweetened vanilla almond milk
2 tablespoons lemon juice
1 pound strawberries, stemmed and sliced
2 tablespoons agar agar
1/2 cup turbanado sugar
1/4 cup water
Directions
Mix together matzoh meal, sugar, baking soda, baking powder, and salt. Add yogurt, vanilla, water, almond milk, and lemon juice. Mix until just blended–do not overmix. Pour into oiled 8×8-inch pan and bake at 350 F until a toothpick comes out clean, about 30 minutes. Remove and allow to cool completely.
Combine the strawberries, agar agar, sugar, and water in a saucepan. Cook over medium-high heat until sauce boils and thickens. Spread over top of cake. May be served warm or chilled.
Frankly I'm STILL shocked at how well this came out….and it's the first "cake" I've ever baked!
Selah.