Spicy Sausage Pasta
I can eat Carbohydrates!!!!!!!  I just had to get that out of the way, and now I can talk about the meal I ate to break Passover once the sun went down on Thursday.  I hadn't made "sausages" in some time, and was itching to try out a new recipe since I've had a lot of fairly successful batches, but I'm still looking for that AWESOME one.  This was pretty darn good, although I went a little overboard with the chili flakes rendering a product that was seriously hot.  All the same, the dish was yummy, filling, and just what I'd been looking for after a week of no carbs and protein.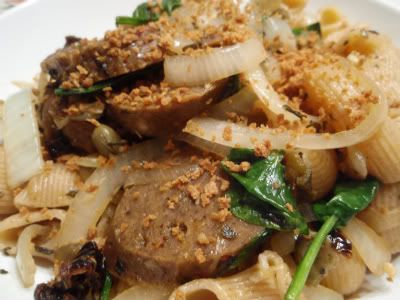 The original recipe came from  here and my changes were pretty much all spice related, so if you like a sausage that isn't searingly hot and flavorful I would recommend just going with the original.  I didn't have Old Bay seasoning, and replaced it with a blend of several spices which was great, it's just the multiplying of chili flakes I might not recommend.
Ingredients
2 ¼ cups vital wheat gluten
½ cup nooch (nutritional yeast)
¼ Garbanzo Flour
1 tsp. "better than bouillon" Not Chicken Base
1 tbs whole fennel seed
½ tsp. celery salt
½ tsp. black pepper
2-3 whole bay leaves
6-7 whole cardamom pods
1 tsp. mustard powder
½ tsp cloves
½ tsp hot paprika
½ tsp fresh nutmeg
1 tsp smoked paprika
1 tsp Italian Seasoning Blend
¼ cup red pepper flakes (I'd suggest halving at the very least, but this is what I used)
Generous Grind Black Pepper
2 cups warm water (heat activates gluten)
2 tbs shoyu
3 tbs Olive Oil
1/3 cup minced, roasted red peppers
2 tbs tabasco sauce
Directions
1. Combine ingredients from celery salt to nutmeg in a spice/coffee grinder. (they're one and the same in my home) Pulse until uniform.
2. Combine all ingredients in a suitable bowl and mix until well combined. I tend to get impatient and dig in with my hands, but do whatever works for you.
3. Shape mixture into sausage size "logs" and roll each in aluminum foil, twisting the ends…think "hard candy wrapper", then place in a steamer and steam for 30 minutes.
4. Once the sausages have cooled, unwrap the foil and enjoy as you see fit. They're great sliced up and sauteed in some olive oil.
I made a pasta dish out of this, by boiling some whole wheat noodles while I sauteed together garlic, onions, baby spinach, sundried tomatoes, capers and black olives along with a couple of the sausages.  The veggie mixture was spiced with salt and pepper, dried jalapenos (me and my heat) and some dried green thyme.  When I began cooking, I'd thought we had white wine in the fridge, and that turned out not to be true.  The dish was fine without, but a nice reduction would've added a body of flavor that was somewhat missing from the equation.
Selah.