Snappy Snap Pea Salad and Penne Broccoli with Red Pepper Sauce
Both recipes tonight came from  Vegetarian Planet and fared pretty well.   Snappy Snap Pea salad just sounded fun, and  it called for some of my recently acquired Sumac which I was pretty hyped up about.  This was cool and tasty, but a bit too tart for my taste, mostly because of the Sumac if I had to venture a guess.
I'm normally not a huge fan of raw red onions, but these were actually pretty good, I think because they got marinated a bit in the dressing.  (The salad had to chill for half an hour after mixing)  Overall I'd have to admit that this is nothing special, and I probably wouldn't go back to it again, except that the SNAPPY name might come to mind and convince me.
The pasta dish (also from Vegetarian Planet) was pretty darn good.  It was a bit under-salted, but beyond that (easy fix) it was great, and really a novel idea…I wouldn't have thought to make sauce out of red peppers like this, and it's a great alternative to tomato sauce from time to time.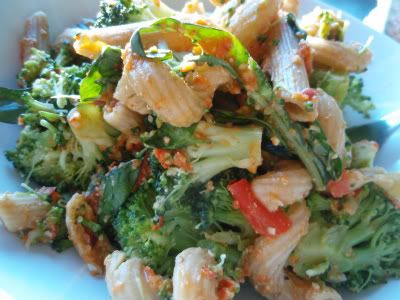 I do recommend the pasta if you own the cookbook, and while it calls for almonds (which I used) I have a feeling pretty much any nut would work in this sauce.  Using peanuts with the red pepper may even render a nice "pad thai-ish" dish…
Selah.