Rutabaga Mash
I needed to do something other than mashed potatoes, and while I've never had rutabaga before, I've heard about it's propensity for being mashed…and I was up for trying something new.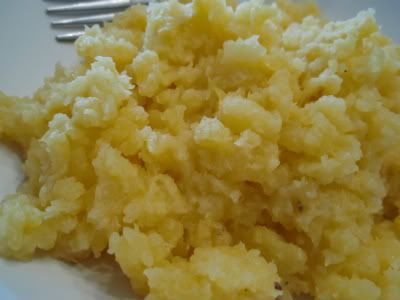 It turns out I REALLY LIKE RUTABAGA.  It's a good bit sweeter than normal mashed potatoes and has almost a cauliflower flavor to it, but way smoother and more delicious.  I treated it like potatoes with some (not SOY milk since it's still Passover), earth balance, salt, and pepper.  I didn't really try to get this perfectly smooth, while I might've been able to with time, I wasn't feeling all that motivated, and I kind of liked having a little texture in the dish.
I will admit to being a bit shocked when the rutabaga turned yellow as it cooked…considering it started out the same color as a russet potato.
Selah.