Pineapple Fried Rice
Thursday night we ordered out for Chinese, although I'd really wanted Thai.  While there's a great Thai place nearby that does take out, they don't deliver, and the way I was feeling, I wasn't getting out of bed to go pick up my food anywhere, they were bring it to me.  As a consolation prize, I decided to make something with a Thai flair on friday night, which was going to be tricky seeing as we has almost no food in the fridge.  Enter VERY simple pineapple fried rice.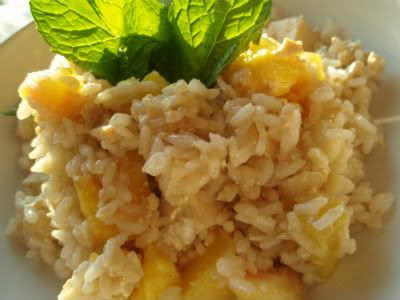 The recipe was found online, and then altered to meet the limited ingredients I had available in my kitchen.  Thankfully there was pineapple in the fridge, but then that was why I thought of this dish to begin with.
Ingredients
2 cups chopped,fresh pineapple
3 cups cooked, long grain rice (we had less than I thought and I had to sub half with sushi rice
2-3 TBSP peanut oil
3 TBSP veg. stock
1/2 onion, minced
1 tsp. dried jalapeno
1/2 cup raw macadamias, chopped
3 cloves garlic, minced
2 TBSP Braggs
2 tsp Curry Powder
2 tsp lime juice
1 block tofu
mint, for garnish.
Directions
1. Mix one tbsp of oil with the rice, trying to separate the grains as much as possible. Since I had to sub some sushi rice this was hard.
2. In a small bowl, whisk together the Braggs and Curry powder.
Pour the rest of the oil into a wok over med-high heat. Add onion, garlic and dried jalapeno stirring until onion starts to become translucent. Add about half the stock.
3. Crumble half the block of tofu into the wok and treat as a tofu scramble to create "the egg" effect.
4. Add Macadamias and Braggs/Curry mixture. Throw in the rice, pineapple and gently stir-fry until the rice is coated with sauce and starts to dry out. Add lime juice to flavor and serve up with a mint garnish.
Yay, thai food!
Selah.