Passover Friendly Food fit for Royalty
For 8 days, I can't have ANY wheat products (bread, cereal, pasta, rice, couscous, wheat gluten, etc) dried beans and the products they make (soy, chickpeas, navy, kidney, lima, black, butter, etc) and no peanuts.  Basically, this is the anti-vegetarian holiday, and I generally hate what I eat for this week.  Not tonight…this was all vegan, very filling, and absolutely delicious.
Quinoa IS allowed for passover, and I was more than ready to take advantage of it.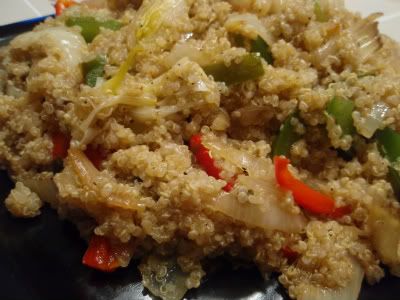 We discovered a new spice shop called "penzey's spices" today (it's actually a national chain, you should check it out if there's one near you) and I tried out a couple of my new acquisitions in this.  The quinoa was cooked in vegetable stock, and then combined with red and green bells and half an onion sauteed in olive oil, and spiced with shallot-pepper, dried jalapenos, an Italian blend called "Tuscan Sunset" and some garlic salt.  Everything except the garlic salt was new, and this dish was delicious, a definite winner.
I'd been wanting to try out the sweet almond sauce from Diet, Dessert, and Dogs and wasn't in the least bit disappointed with the final product, although I must admit to making a couple changes.
I switched out the cardamom pods with sumac (another of my new aquisitions) and the carob powder with cocoa simply because that's what I had available.  This tasted almost like liquid chocolate pudding on sweet potatoes, it was really FRIGGIN good.  This would be good on whole, baked sweet potatoes as well…pretty much anything made from sweet potatoes would probably benefit.
Last but not least, I did a marinated portabella to fill the void of something "meaty" since I can't do any tofu, gluten or beans this week.  The marinade was asian themed…and quick.  I de-stemmed the portabellas, put them in a large ziploc, and simply added ingredients as I saw them.
Ingredients
2 portabella mushrooms
2 tbs. hoisen sauce
2 tbs hot chili sauce
1 tbs. minced garlic
1/4 cup shoyu
1/4 cup mirin
2 tbs. dark sesame oil
1/2 cup water
Directions
Combine everything in the ziploc along with the mushrooms, and allow everything to marinate for a minimum of half an hour.
Preheat a large skillet over med/high heat, place the mushrooms in it facedown and cover with the marinating liquid. Cover the skillet and simmer for 5 minutes. Flip the mushrooms and cook another two before serving.
If only every passover meal was this good..
Selah.