Grandma's "brisket"
With Passover coming up, I'm craving some of my family's traditional holiday food (not including matzoh…which I can live without) and so I called up my grandmother.  "What's your brisket recipe I asked?"  Remembering my favorite meat until the days I went Veggie six years ago and wanting to give it a shot…
Turns out it wasn't so easy.   I discovered for the first time that the recipe is different every holiday, and I had no idea!  Instead of trying to stick to any one version, I went with the ingredients I found first, and created my own little rendition, which tastes familiar, if not identical to the one's I grew up with.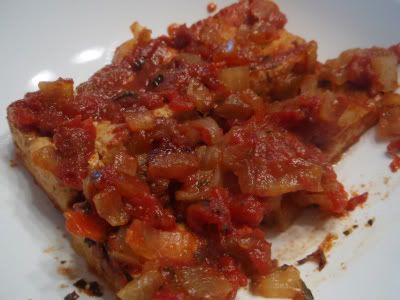 Ingredients
1 block tofu, cut lengthwise three times and and then into 6 rectangles
1 can tomato sauce
1 cup cola (I use pure can sugar cola…HFCS freaks me out)
1 medium onion, minced
palmful cumin
palmful dried basil
S+P
Directions
1. If you wish to press the tofu ahead of time, feel free to do that, it's not totally necessary. Preheat your oven to broil.
2. Heat a skillet over medium heat and add the minced onion. Allow to cook, stirring occasionally until the onion is starting to brown and caramelize. You HAVE to take it this far for the full effect of the flavor. Meanwhile combine the tomato sauce, cola, and spices in a medium casserole dish.
3. Once the onions are done sauteeing, add them to the sauce and mix. Then place the slabs of tofu in the sauce. doing your best to submerge each one.
4. Cook for 25 minutes, remove, flip the tofu, and cook for another 25 minutes. Enjoy!
This had the nice sweet flavor I'm used to with brisket, and was balanced beautifully by the slight acidity of the tomatoes.  I had to make it today because technically tofu isn't "cool" for Passover…not that I'm complaining to the big guy….but did you have to take away ALL my proteins for 8 days?  Everything?
Selah.