Golden Rice Cakes with Sweet Potato-Ginger Sauce, Schezuan Bean Curd Soup and Smlove Pie
The sauce for the Golden Rice Cakes was probably the most beautiful thing I've ever made.  It was the color of perfectly ripe  cantelope, smooth as silk, and yet perfectly spiced.  I'm just a little proud.  The rice cakes themselves were pretty good too, although without the sauce I doubt they would have been anything special.  The recipe came from Vegetarian Planet, and the only change I made was replacing the jasmine rice with long grain brown to up the nutrition factor a bit.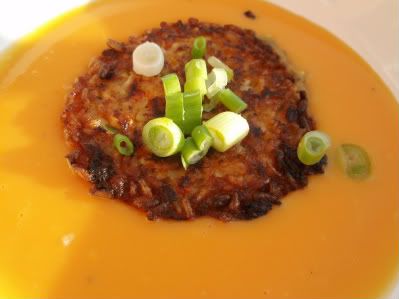 The scallions on top aren't totally neccesary, but they look pretty, and I was a fan of the crunch they added.  I must admit that the first rice cake died a horrible crumbly death, but I got the hang of it by no2 and with a bigger spatula there were no further problems.
The Szichuan Bean Curd and Vegetable soup came from World Vegetarian and it made its way onto this week's menu because when we ordered the Bean Curd soup with delivery last week, it never showed up.  While the vegetable ingredients were mostly the same as the delivery version, the broth was more akin to hot n sour soup, which was fine with me.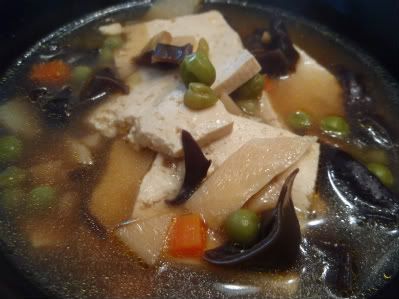 My favorite part was probably the peas, which aren't included in my standby hotnsour soup recipe from V'con.  I've discovered I have a thing for peas in soup….although not split peas…I HATE split peas…they're basically green versions of my most abhorred food…LENTILS.  Ewww.  But this was good…there were no lentils, and I enjoyed it quite a bit.
Last but not least…..TADAH!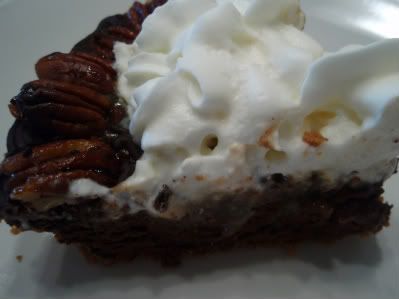 This is the Smlove Chocolate-Peanut Butter Pie from V'con (at least I think that's what its called) that I'd been eyeing forever, and MAN was it good.  I still can't believe it's Vegan (prior to the non-Vegan whip cream coating the top)  I also can't decide if it was the chocolate filling, drizzle, candied pecans or peanut butter-caramel sauce I was most excited about, they were all good.  Mmmmm desert….I can't make this one too often, both occupants of this apartment will start to grow…and fast.
Selah.