Cure a Cold Soup
I've been feeling a bit under the weather lately, and following up the day of tea (I had about 12 cups yesterday) I was looking for a new way to consume my liquids, and did soup for today's lunch.  Followed up with a hot shower, I'm feeling much better, and I highly recommend the "brew" I came up with the next time you're starting to feel ill.  (Not evaluated by the FDA, This recipe does not purport to diagnose, treat or prevent any illness without sleep, vitamin C, and the care of a physician if necessary)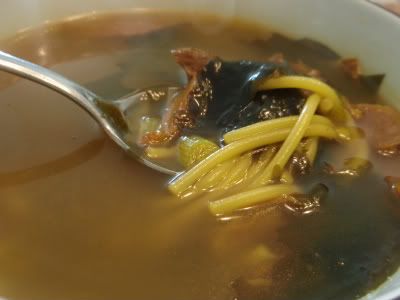 I used turmeric in here for the color (foremost) but also because food with turmeric tends to make me feel more clear-headed and energized, two things I'm a bit short on of late.  I googled turmeric while I was eating the soup, and now I'm even More Convinced that the stuff is magical.  It also turns the noodles bright yellow, which I think is pretty cool…
Ingredients
4 cups water
1 tbs. Not-Chicken Soup Base
1 tbs dried tarragon
1 tsp turmeric
1 tbs dried thyme leaf
1 tbs dried parsley
Generous grind black pepper
1 handful spaghetti, broken into thirds
1/4 cup dried wakame
3/4 cup reconstituted oyster mushrooms (or fresh if you have them, mine were dried)
3 scallion stalks, minced
Directions
1. Combine water, stock base and spices in a medium soup pot, and bring to a boil. Add the wakame, scallions, noodles and sliced oyster mushrooms.
2. Simmer for approx. 10 minutes, and then serve. You'll be feeling better in no time.
It's been getting more and more sunny outside, although the wind is practically strong enough to bowl me over out there…I am feeling a bit weak with this whole cold thing though…
Selah.