Baked Buttercup Squash
The squash were gorgeous this week, and I just couldn't help myself.  (plus they're passover friendly!)  I got a pale green buttercup squash, and went with a simple oven bake.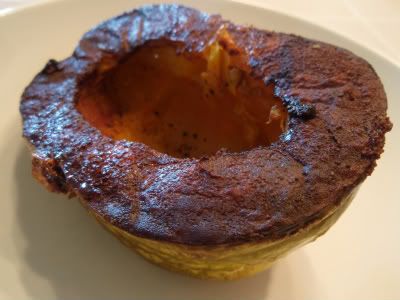 The oven was pre-heated to 400F while I scooped out the seeds, and set each half up with a teaspoon of margarine, and ample sprinklings of cinnamon, nutmeg, and galangal (similiar to ginger, but milder).  The squash halves were quickly flipped so they were hollow side DOWN, and then baked in the oven for 45 minutes before being scooped out and enjoyed.
The spices created a tasty "crust" on the exposed flesh of the squash and when everything was mashed together the flavor was intensely awesome.
Selah.
PS.  The Food Porn Tab is comlete and up-to-date, check it out!