Asparagus Portabella Quinoa
This was the last night of Passover…I intend to wait until after dark for dinner tomorrow…it's going to be a carb fest.  We did quinoa again tonight, and frankly if I was writing a cookbook, this would be the first recipe.  It was absolutely delicious.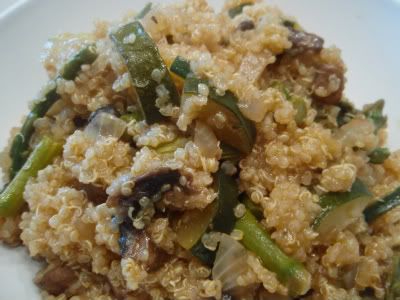 This may not look like much, but it was DAMN good, and I highly recommend you give it a shot (assuming you're a fan of quinoa of course…and asparagus…and zucchini…and mushrooms)  I also didn't measure anything for this, but I approximated as best I could…
Ingredients
Generous drizzle Extra Virgin Olive Oil
Approx. 1/4 cup Braggs
Approx. 1/3 cup cooking sherry
1 tbs red curry paste
1 tbs tomato paste
1-2 tbs dried tarragon
Generous Grind white pepper
Heaping tbs minced garlic
Generous sprinkle mesquite seasoning
2 large portabella mushrooms; de-stemmed
2 zucchinis, halved and then sliced into half-rounds
1 bunch zucchini cut into thirds
1 medium onion; minced
1.5 cups quinoa
3 cups vegetable stock
Directions
1. At least an hour before starting to cook, combine the portabellas and all above ingredients in a large ziploc bag and refrigerate so they'll marinate. Try to flip the bag half way through so both sides are flavored evenly.
2. Boil the vegetable stock in a medium pot and once it's reached a rolling boil, add the quinoa and lower to a simmer. In the meantime, mince the portabellas and add all the vegetables including the marinating liquid to a wok or large skillet.
3. Once the quinoa has soaked up all the stock, add it to the vegetable mixture and allow to cook until all liquids are absorbed.
4. Enjoy!
Selah.