Asian Marinated Green Beans
These green beans weren't actually marinated…they were cooked with the remaining marinade from the portabella mushrooms, which thickened considerably during that cooking process and created a sauce I just couldn't throw out.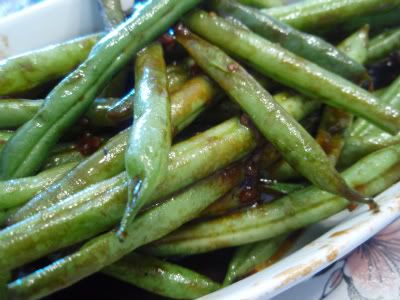 The beans were sautéed in a bit of peanut oil to keep an Asian flavor, and after a couple minutes the remaining marinade was added to the mix, and everything was cooked for a couple minutes more.  This was so good I almost wanted to scrape up the remaining sauce from the serving vessel and plates, and give it a third go…we're out of green beans now though, so there wouldn't have been much point…
Selah.