Anise Flavored Bread and Celery Gratin
First off, who on earth cooks celery for an HOUR?  While I thought this was pretty good (others weren't as keen) I still think attempting to cook celery for an hour is pretty ridiculous.  As it turns out, I didn't get to keep it in that long anyway, because after about half an hour in my cast iron skillet it was starting to burn to the bottom…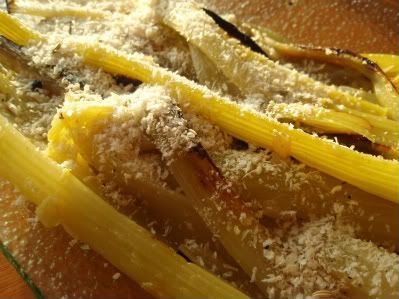 The recipe came from Madhur Jaffrey's World Vegetarian and the only change I made  was replacing the Parmesian with Panko bread crumbs, which I thought worked out great..they added a nice bit of crunch to the dish.  While I probably won't spend an hour cooking a stalk of celery ever again, I am glad that I did it once, and can add that to my list of "been there, done that".  While a lot of people I know don't love cooked celery, it's among my favorite snacks, so I'll have no issue finishing off these leftovers.
I also baked the Anise Flavored Bread from Vegetarian Planet, which was pretty successful, look!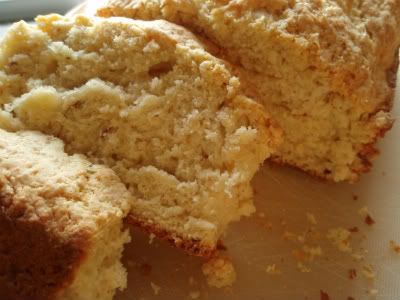 The only complaint I really had with this was that it's pretty dry, which was evident before I ever put it into the oven.  According to the recipe, you should have a batter to spoon into the loaf pan, whereas I DEFINITELY had a dough.  (heads up, this one isn't Vegan, I used two eggs)  I used a bit more liquid than the recipe called for, and it was still nowhere near a batter, so I'm not how Jaffrey came up with her measurements…
In a totally unrelated note, I finally got my hands on Food Matters by Mark Bittman which I've been trying to read for months.  (literally)  The library had lost one copy and the other is three months overdue…which is slightly less than the length of time I've had the book reserved.  I decided to visit an old friend who I hadn't seen in months the other day, and saw the book on her table.  I was granted a loan, and read the entire thing (the second half is recipes) in less than two days.  It's great, I really like what he's saying.  If he was advocated full out Vegetarianism I'd be even happier, but I can totally live with what he advocates, and I wish more people could live that way.  If you haven't read it, I recomend picking it up…soon!
Selah.