A RAW Contest Entry
If you haven't visited lately, Lindy-Loo over at Yeah That Vegan Shit is having a contest. With some cookbooks up for the taking, the idea is to make some rocking nips out of food, and I had to give this a shot.  You should consider that your censored warning for the pictures in this entry.  I'd been wanting to give the parsnip-beet salad from V'con a shot, and for some reason beets have always reminded me a bit of female body parts.  What can I say…they're round and pink, and…I'll stop there.
My artwork was a bit shy at first, and came out in it's fabulous pineapple beachware: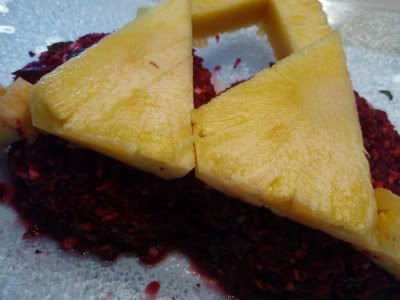 But with a bit of coaxing I did get a shot of the girls full throttle:
Much like mine, one of these ended up a good bit larger than the other…but I had to be true to the real girl's body.  (unlike Barbie-Damn those unreal expectations)  The best part of these nips is that they were delicious for lunch…just imagine how much foreplay we'd all be getting if our nips were made of food…
Selah.