Valentines Dinner
This was me and my boyfriend's third V'Day together and we did the same thing we have the last couple years, which is cook a nice dinner together, for just the two of us. This was the first time our Valentines dinner was completely Vegan, although with all the coconut milk it was beyond decadent, there was certainly no one wanting for dairy here…
In VwaV, Isa says that Sweet Potato Crepes with Cilantro-Tamarind sauce are the perfect Valentines day meal because they're sexy. I'm not sure about that, but they taste damn good.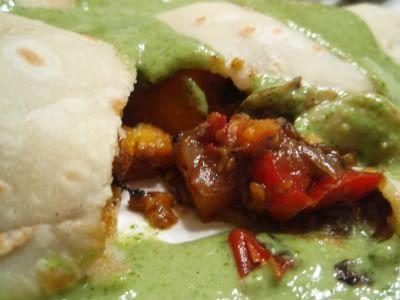 The recipe says to chill the crepe batter for half an hour, but after leaving it for about 40 minutes I discovered it had become way too thick for crepes, and had to add a solid cup of water to loosen things up. That was the only issue I had with these, and the sauce is DAMN GOOD. I'd eat that stuff on my toast in the morning if I could…it'd get a bit messy though.
We decided to pair up the crepes with Green Thai Curry on the preceding page in VwaV, not just for proximity, but because a lot of the ingredients overlapped, and I'm big on having complimenting flavors in my meals.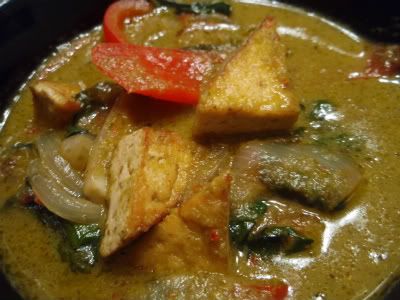 Unfortunately I added a bit too much lime juice and not quite enough maple syrup, which I figured out too late. The result was a rather tart curry, which wasn't bad, but also wasn't exactly what I was looking for. I'd also refrain from frying up the tofu as well as we had beforehand because it stayed pretty dry and didn't soak up the flavor of the curry which I found disappointing. That's a personal thing though. Some people might prefer texture to flavor, in which case you should go right ahead and get those triangles golden. This would also be really good over rice, although we ate it as-is.
I left the desert making to the boy, since I have a penchant for screwing up sweets. He made the strawberry cobbler with lemon-poppy seed crust from V'con, minus the rose water, since after going 4 separate places we couldn't find any. It was replaced with almond extract, which seemed to work fine.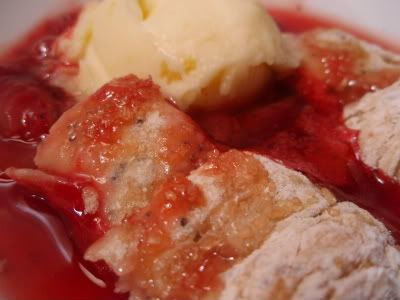 That's a scoop of Mango gelato on top, it couldn't have been a better finish. It's impossible to tell with a single serving, but I would like to give credit for the GORGEOUS lattice crust he made, I would never have been that talented…
Selah.