Polenta Lasagna with Roasted Vegetables
Yet another Vegan Dad recipe…this is the last (of the week) I promise. I've used cornmeal to make cornbread, and to crust various things, I've even made the creamy porridge like polenta…of which I'm not a fan. I never really liked cream of wheat for breakfast, and that's what it reminded me of…except for dinner. I've also bought the tube of polenta, sliced it into rounds and baked them…that wasn't bad…but I've never tried anything like this.
I made the polenta from scratch, and then spread it onto the cookie sheet to harden, just as instructed…it worked! I was terrified that it would remain a mushy mess, and I'd be up a creek with a whole bunch of lasagna ingredients and nothing to hold together the layers, but today I was in luck. It wasn't even horribly difficult to spread out, although you do need to act fast.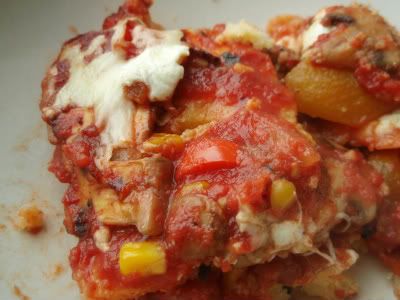 My favorite part of this was probably the roasted peppers, since I love the flavor, and I really enjoy roasting them…it's the best part of having a gas stovetop. I did cheat a bit by using real mozzarella instead of the Vegan kind, but other than that I kept everything as is….except mine is a two layer creation and Vegan Dad's is three…apparently he has a deeper casserole dish than I…