Tomato Confit Goat Cheese Pizza with crispy shallots
Today was pizza Friday…some time ago I declared the first Friday of every month "Pizza Friday" and it's a fun little tradition we've been keeping ever since. Often we'll go out for the pizza, always trying somewhere different, and sometimes we make the pizza at home…this was one of those times. I picked out the recipe for tomato confit pizza with goat cheese and crispy shallots from Vegetarian Planet and it was even BETTER than expected.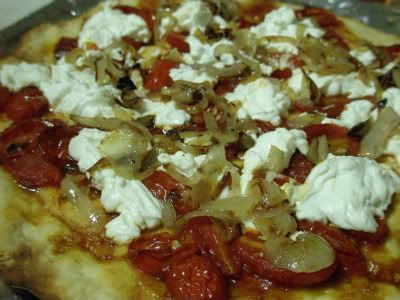 I used a "just-add-water" pizza dough mix, since I was feeling lazy, and stretched it out nice and thin. The crispy crust, in combination with the sweet confit, rich goat cheese and crunchy shallots, was perfect. Literally…PERFECT. With a side salad and a Guinness, this could not have been a classier version of pizza and beer.
Selah.